Ok I will admit it I am already looking forward to the draft and this summers free-agency.  So here is my current day dream (sparked by the espn mock draft)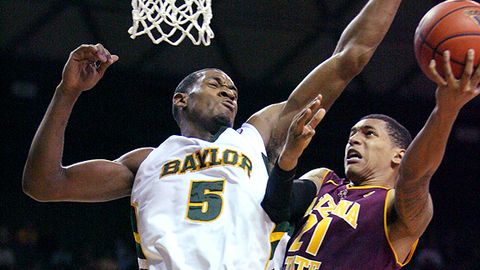 Jazz move up to the 1, 2 or possibly 3 spot in the lottery and draft perry jones. A good passing big man in our system, would be amazing, he is like Greg Monroe (who we were all hoping for) but better.  Can you imagine how great he would be with Favors?  He has an outside shot, runs the floor like a deer, and is an amazing passer (did i mention that already).  Also he is 6-11 we would be tall team. 
We hire Malone to motivate and coach these two. 
We still make the playoffs (I'm still holding out hope), so we don't get a second lottery pick. But in the offseason we trade bell to Minnesota for the Jimmer.  Before you all start a Jimmer war, i just think he would be a great offensive spark plug off the bench, i don't have dreams of him being Mark Price or Stephen Curry.     
We now have an over abundance of forwards, so we trade millsap, jefferson, or memo for an all-star caliber wing.  As in a Kevin Martin or Monta Ellis.  Or maybe a younger wing like Aaron Afflalo.     
Also we sign AK for the mid-level or lower.  (As a side note it would be funny if he signed with the nets because I don't think Deron was a big fan.)
The End for now.