Really some very sad news coming out today... The following is the article that the AP has put out on LHM's surgery this morning:
Longtime Utah Jazz owner Larry H. Miller's legs were amputated 6 inches below the knee on Friday.
Jazz spokesman Jonathan Rinehart said Friday's surgery was the result of complications from Type 2 diabetes.
Rinehart said the 64-year-old Miller is recovering in a hospital.
"Larry is doing well and is expected to continue to recover in the coming weeks and months," Greg Miller, Larry Miller's son, said in a statement. The statement said Miller's family would not be releasing any details.
[+] Enlarge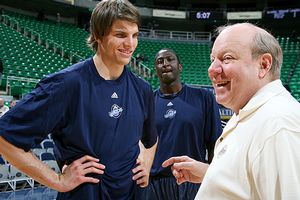 Rinehart said Miller was already using a wheelchair before the surgery.
On Thursday, Gov. Jon Huntsman chose Miller to chair a new commission that will look for ways to increase Utah's low voter turnout and improve ethics in government. Miller did not attend the announcement -- the reason given was that he had a hospital appointment.
In October, doctors found a bone infection and diabetic ulcers on one of Miller's feet. He had outpatient surgery.
Miller had a heart attack over the summer. Complications including kidney failure and gastrointestinal bleeding that required blood transfusions followed, keeping him in the hospital for nearly two months.
Medical problems continued, including a nine-day hospitalization for dialysis to remove excess water weight.
Miller bought a 50 percent share of the Jazz in 1985 and purchased the rest of the team a year later.
Due to his father's health, Greg Miller was selected as the CEO of the Larry H. Miller Group over the summer.
The group owns the Jazz, radio and TV stations, restaurants, car dealerships, movie theaters, advertising and finance firms, sports arenas, a race track, a movie production company, ranches, a real estate development company and a minor league baseball team.