Hey, it's still Sunday somewhere right now . . .
The NBA Draft is a real crapshoot
Have you ever spent some serious time looking at the NBA Draft? It's full of players with so much hope and potential – the things people say on draft night, it's a wonder how the league doesn't get 60 new All-Stars every year. Obviously that's not the case though. The natural laws of fairness suggest that the higher a draft pick is, the better probability that the player will pan out. Unfortunately, the NBA shuns the natural laws of fairness, and using random luck as a guide to draft success is more reliable than looking at draft position alone. Ultimately, the NBA Draft is a real crapshoot. We all pretty much know this already, which is precisely why I'm worried about all of our high draft picks over the last few years. (Including next year, theoretically if new Golden State Warriors Head Coach Mark Jackson can give the Jazz that assist we need) The law of averages suggests that each of the lotto picks we draft can't all turn out to be studs. The last team to build primarily through consecutive drafts, the Seattle Supersonics Oklahoma City Thunder, is a good example of this. Not every lotto pick is a stud, just ask Jeff Green. Furthermore, stocking up on draft picks is hardly the path to greater success. (It's a great way to build up hype though) Ask OKC again. Or just re-read this piece I wrote on October 31st, LAST off-season.
Anyway, back to the Jazz: looking at our lotto picks in fully 'glass is half-empty' mode this is what we're working with:
Derrick Favors

(#3 pick 2010) – wasn't wanted by the team he was drafted by, and only drafted so high because he wasn't a head case like

DeMarcus Cousins

.

Gordon Hayward

(#9 pick 2010) – average in everything, could turn out to be worse than the guy who plays the same position who was drafted right after him,

Paul George

.
Enes Kanter (#3 pick 2011) – I have played more organized basketball than he has over the last year.
Alec Burks (#12 pick 2011) – shooting guard who was so confident in his shooting, he was one of the only guards who went to the Chicago predraft combine who didn't take part in any of the shooting drills
Are these four guys as good as Kevin Durant, Russell Westbrook, Serge Ibaka, and James Harden? Only time will tell . . . but the Negative Nancys out there would suggest that the answer is 'no way'. Maybe they are right? I don't know. I'm the wrong guy to ask about these types of things because I still light a candle every day for Morris Almond and soundly believe that Fesenko could be an NBA player. (Matt Harpring thinks so, he said so last week on NBA TV) So, I'm a super optimist. (Hence, the inability to see things half-empty) I like the idea of having young talent. I don't like the idea of having to rely upon young talent. Why? Because we have to rely upon the Jazz to actually groom and develop that talent. And, well, I'd rather put my money on Saddam making a comeback. The Jazz have not proved to me that they can do this – the only guys who really seem to improve are guys who are self-motivators or people who are so insecure that NOT dominating on the court hurts their fragile egos (John Stockton, Karl Malone, Deron Williams, Paul Millsap). Feel free to categorize those four players in those two groups.
Hayward appears to have intrinsic motivation. Burks appears to have a huge chip on his shoulder. I know nothing about Kanter's desire. Favors has the tools to the best out of this group – but then again people said the same thing about Charles Barkley and Derrick Coleman. To be fair, Karl had such a huge desire to get better because a) he felt like he was dissed by falling to the #13 pick in the draft, and b) he had visible flaws to his game. He couldn't shoot. He was horrible at the line, and so on. Deron also felt dissed, despite being a #3 draft pick and being drafted first among all guards in that draft – because the perception was that he wasn't the best PG in that draft. Both of them worked hard and pushed themselves accordingly. Favors is the #3 pick in the draft (so is Kanter!) – so maybe they don't have the 'they all doubt me' motivation pushing them that Karl and Deron had.
They also do not overly appear to by gym rats like Hayward and Burks appear to be. Gordon and Alec give off that vibe that if they did not make it to the NBA, or were playing different sports (or no sports at all for their jobs) that they would be playing basketball for fun on their own time. You can't underestimate the love these players have for the game. Similarly, you can't just assume that all NBA guys love the game the same amount. Some guys love the game because it gives them an opportunity. We've read countless articles about inner city players given a chance for a better life through basketball. Similarly, there are a lot of words written about youths escaping a bleak war torn homeland with the same love of the game (look at all the Serbs and Croats who play ball in other nations). Does a guy who comes from a middle class family and isn't a gym rat love the game as much as someone who came from the hood? I know Kanter is a rich kid who got super big and tall (not unlike Koufos' – both of their dads were doctors). Favors, on the other hand, never really knew his dad (who was a ball player).
The NBA draft is a crap shoot. Building a roster off of draft picks can only be a crap shoot as a result, especially if you are building around two very young bigmen who have very little experience, and were the #3 draft pick in consecutive drafts. They have to prove it to me that they love the game – because they don't seem to have the chip on their shoulder that Karl and Deron had. Yeah, I'm putting that pressure on them because I know the Jazz staff is incapable of making them better. We are, after all, talking about a team that is a three person coaching staff right now that has overweight and obese people being part of our 'physical health and development' staff.
I want Derrick Favors and Enes Kanter to kick butt. Let's hope they do so in a Jazz uniform.
Stats Class:
How bad is the NBA Draft, as far as crapshoots go? Do you remember the 2001 NBA Draft? It's the perfect example of how we fans should look at drafts. The two main factors which influenced general managers in this draft were youth and size. It's no surprise then that the first four draft picks were all bigs, and three of those four were straight out of high school: Kwame Brown, Tyson Chandler, and Eddie Curry. A number of guys were drafted in the middle of the first round who would end up being worse than the people drafted in the end of the first round. In fact, the most accomplished player from this draft was the last pick of the first round: Tony Parker. (Yes, Pau Gasol has international awards too – but he wasn't hitting Eva Longoria, so yeah, Parker wins) There were a number of European players taken, and about half of them panned out. For every Gasol and Parker there was a Vladimir Radmanovic and Raul Lopez. The second round was crazy as well. Most of the guys were horrible, but a few were good enough to be rotation players in the league. There were two All-Stars as well: Gilbert Arenas and Mehmet Okur, who came out of the second round. All in all, this draft is every draft. This draft was a crap shoot.
There's no better way to illustrate this than to look at the number one pick of the draft, high school center Kwame Brown, and compare him to the 6th last guy picked that night, college center Jarron Collins. Obviously the kid with all the potential in the world should be way better than the guy we all hated, right?

Too small? Click here for the full-size version.
Kwame scored more, shot more frequently, got to the line more; but he did all of those things only slightly better than the 6th option in the Jazz offense (an offense which has only 5 players). The one point that makes me lose my head is really how much they made over their careers. Magic Johnson only made $18 million from the LA Lakers as a player. Jarron made $15 million. Kwame made more than Central America made over the last decade. The number one pick in the draft scored less than 3 more points and grabbed less than 3 more rebounds per game than the journey man center picked at the end of the NBA draft. Kwame and Jarron are the perfect examples for how uncertain the NBA draft is.
Video of the Week:
And it's not even like Jarron was that great of a player coming out of college. Here's what they said about him on draft night . . .
Kenny Smith says that he's probably not as good as some of the guys who he was drafted ahead of. He was drafted at #53. That says a lot. Hubie Brown says that he is big and slow. Thanks Hubie! Also thanks again to JazzBasketball1 for uploading this video.
Hope you didn't miss . . . .
Eldon Khorshidi documents the 50 strangest NBA Player tattoos for SLAM Magazine. Larry H. Miller would turn in his grave to know how many of these are Jazz players / former Jazz players. Some amazing artwork, to say the least.
Chris Johstoneaux wrote a piece on the Bleacher Report that linked every NBA team to a Famous Rock Band. He's also their featured Jazz columnist, so check it out!
Matt Moore reports that Nicolas Batum is going to play in France. I know someone out there is keeping a scorecard for which NBA guys are going outside the NBA . . . anyway, another solid piece of a blogger reporting something legit on a news site. (There's hope for us all yet!)
Some people really do not like female NBA referee Violet Palmer . . .
Did you know . . . ?:
. . . that Tom Nissalke has been both the ABA Coach of the year (1971-72) *and* the NBA Coach of the year (1976-77)? That's pretty good for a dude who has never led a team to a 50 win season, and finished 8 of his 14 seasons as a head coach with a winning percentage of 40% or worse.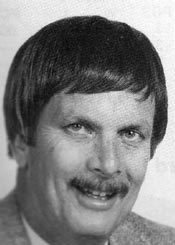 But when you look this good, you don't have to be good at your job.