Deadline Inaction: Trade deadline is today at 1 PM MST.  I've already written 2,000 words on the Jazz point of view in my downbeat from 2 weeks ago.  I still don't expect much to happen since it doesn't look like the Jazz are willing to move assets that other teams in the league would be interested in.  I really, really hope I'm wrong as this Jazz team could use some help getting worse for the next 8 weeks in order to get better for the next 8 years.
While not a trade rumor per se, this late night tweet from Jody Genessy makes me believe that something could be cooking:
Tomorrow could be wild. From what I heard tonight (no specifics), I'd be surprised if the Jazz aren't involved in trade-deadline action.

— Jody Genessy (@DJJazzyJody) February 20, 2014
So what do you guys think Jody is referring to?  Will we consummate a trade with Boston today? Or will we rest on our flexibility again?
Awards! Speaking of Jody, we'd be remiss here at SLCDunk if we did not congratulate him for his prestigious writing award:
Deseret News sportswriter Jody Genessy, in his sixth year covering the Utah Jazz, was honored for his writing by the Professional Basketball Writers Association at its annual meeting prior to the NBA All-Star Game on Sunday at Smoothie King Center.

Genessy won third place in the game story category of the prestigious PBWA Best Writing Contest for 2013. He received recognition for his Dec. 22 story, "Bobcats' Big Al gets fun letter from Kanter and a loss from old team."
If you haven't read the article in question, I highly recommend you do so.  It is perhaps the funniest happenstance of this mostly dismal year.
So congrats Jody! Keep up the good work, and feel free to DM me any of the details on the trade rumor you came into contact with.
Jazz fall to Brooklyn. Oh yeah, the Jazz played a game last night....oh yeah, the Jazz lost a game last night...oh yeah Tyrone Corbin messed up again...oh yeah this record is broken.
I'll let Aaron Falk of the SLTrib layout Corbin's most recent flub:
Alec Burks' slam dunk with 32.6 seconds left in tonight's game cut the Brooklyn lead to four. But on the ensuing possession, Jazz coach Ty Corbin hesitated in whether to call for an intentional foul.

"I thought they were gonna go quick and they held back and I decided to go ahead and foul them," Corbin said. "My call."

By the time the decision was made and Trey Burke fouled, 16 precious seconds had run off the clock.

"I think we were going to play it out at first," Burke said after the 105-99 loss. "But there wouldn't have been enough time. [Corbin] went ahead and told me to foul, send him to the line. But we didn't have to be in that position if we had kept our intensity the way we did in the first half" when the Jazz held the lead.
.Let's replay that again.  With the Nets up 4 points, with 32 seconds left and a 24 second NBA shot clock, Coach Tyrone Corbin thought that the Nets were going to try to get a 2-for-1 in?  NBA Coach Tyrone Corbin thought that the Nets would be looking to add to their 4 point lead and score quickly? A well compensated professional basketball coach thought for 16 seconds that the Nets were going to hurry and score?
While precious seconds ticked off the clock Corbin let the game slip away.  He messed up.  Coach Tyrone Corbin is good at tanking, I just feel bad that he is actually trying and failing at winning basketball games.  Just 8 more weeks and he's gone.
Draft Probability. As the trade deadline comes, let's take a quick look at where the Jazz are with their chances of winning the draft lottery.  The following is a table that reflects the bottom dwellers with their odds of winning 1st choice in 2014:
| | | | | | | | | | | | | |
| --- | --- | --- | --- | --- | --- | --- | --- | --- | --- | --- | --- | --- |
| Team | Standings | Games Back | 1 | 2 | 3 | 4 | 5 | 6 | 7 | 8 | 9 | 10 |
| MIL | 30 | - | 25.0% | 21.5% | 17.8% | 35.7% | | | | | | |
| PHI | 29 | 4 | 19.9% | 18.8% | 17.1% | 21.9% | 12.3% | | | | | |
| ORL | 28 | 4.5 | 15.6% | 15.7% | 15.6% | 22.6% | 26.5% | 4.0% | | | | |
| SAC | 27 | 7.5 | 10.4% | 11.2% | 12.0% | 5.0% | 30.6% | 25.0% | 4.8% | 0.2% | | |
| LAL | 27 | 7.5 | 10.4% | 11.2% | 12.0% | 5.0% | 30.6% | 25.0% | 4.8% | 0.2% | | |
| BOS | 25 | 8 | 6.3% | 7.1% | 8.1% | | | 43.9% | 30.5% | 4.0% | 0.1% | |
| UTA | 24 | 9 | 4.3% | 4.9% | 5.8% | | | | 59.9% | 23.2% | 1.8% | 0.0% |
Some quick observations.  The Jazz currently have an 85% chance of picking 7th, 8th, or 9th in this draft.  With less than 30 games remaining, the Jazz could lose every game for the rest of the season and still not catch Milwaukee with their current 9 game lead.  Further, unless the Jazz tank hard and Philadelphia and Orlando gets hot, the Jazz are unlikely to end up in the top 3.
The Jazz are really fighting for spots 4-8 right now with Sacramento, LA Lakers, and Boston.  If the Jazz are able to gain the 1.5 games necessary to surpass those 3 teams, the Jazz's odds of picking in the top 3 go from their current 15% to 37.8%.  That is right, the Jazz will increase their top 3 odds by 22.8% by making up just 1.5 games ground.  THAT IS A HUGE JUMP.
Can the Jazz reach bottom 4 status?  Well that of course depends on if they are willing to do what the Lakers and Boston are doing, and get rid of or sit talented basketball players in the name of tanking over the final 8 weeks.
Prospect Probability. So why does a top 4 NBA draft pick in the 2014 draft matter?  For one, Chad Ford identified on yesterday's BS Report with Bill Simmons, that there is now 4 prospects considered elite in this draft, that being Joel Embiid, Andrew Wiggins, Jabari Parker, and Dante Exum.  So apparently Julius Randle has been downgraded a tier.
Second, and most importantly, the higher you pick in the NBA draft, the more likely you are to draft an all-star or solid starter.
This was proven In a very comprehensive historical analysis posted on Draftexpress several years ago.  The whole article deserves a read, however this graph is especially telling on their results: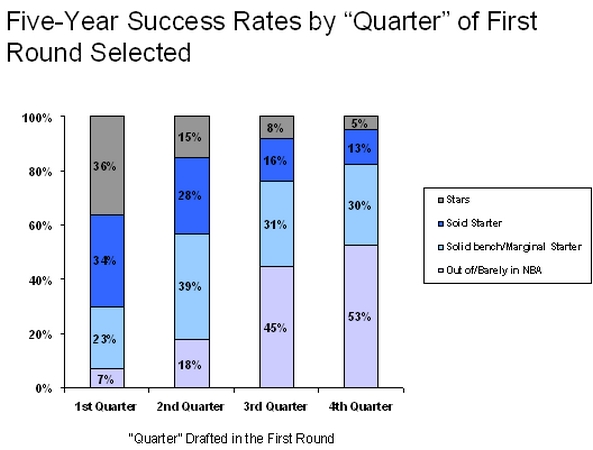 As you can see in the chart, a pick in the top quarter of the draft will net you a solid starter or star 70% of the time.  While we often hear people bring up the Darko type busts, the facts clearly show that you are almost always going to get a starter in the top quarter of the draft.  The odds of a team having similar success in the 2nd quarter of the draft (i.e. the back half of the draft lottery) drops all the way to 43%.  That is a remarkable drop off from picks 1-7 to 8-15.  While you will find some stars in that range like Paul George or Andre Drummond, it only happens 15% of the time, well below the 36% odds of a top 7 pick.
For the 2nd half of the 1st round, i.e. your playoff teams, you have a single digit probability of landing a star.  The odds of landing a Tony Parker later on are very very slim.
To think of this in the Jazz's current situation, the team should have 36% chance that Derrick Favors or Enes Kanter turns into a star, a 15% chance that Trey Burke, Alec Burks or Gordon Hayward will be stars, and a 5% chance that Rudy Gobert will be a star.

Clearly, not all drafts are created equal.  None of the recent drafts those players were taken in seem to stack up to the projected top 10 talent in the 2014 draft, but that doesn't diminish the fact that the higher up the Jazz select on draft day, the more likely they are to pick a great prospect, which is a great fit at a position of need.
Accordingly, the most important the Jazz can do for the future of the franchise, is increase their odds at landing that star player in this upcoming draft.