Top 10 so far:
#5. Rodney Hood (His post)
#6. Trey Burke (His post)
#7. Trevor Booker (His post)
#8. Elijah Millsap (His post)
#9. Joe Ingles (His post)
#10. Trey Lyles (His post)
(#11-20 post)
Last year's projected #4:
Enes Kanter

(His post)

Enough has been said in the last 8 months regarding Kanter's shortcomings with the Jazz. I really have no strong desire for this post to focus on them whatsoever, Kanter has made himself an extremely easy player to dislike for Jazz fans.
| | | | | | | | | | | |
| --- | --- | --- | --- | --- | --- | --- | --- | --- | --- | --- |
| | G | MP | PTS | AST | TRB | FG% | 3P% | FT% | PER | WS/48 |
| Kanter Projected | 77 | 30.0 | 14.2 | 1.3 | 8.5 | 50.0 | 33.0 | 74.0 | 17.1 | 0.089 |
| Kanter Actual | 75 | 28.5 | 15.5 | 0.7 | 8.9 | 51.9 | 35.6 | 78.2 | 20.3 | 0.145 |
Enes actually outperformed my projections for him last season. This should come with the disclaimer that this only happened with the full season stats. His stats on Utah last year were 13.8 points, 0.5 assists, and 7.8 rebounds off of 49.1% shooting while his stats on OKC were 18.7 points, 1.1 assists, 11.0 rebounds off of 56.6% shooting.
He underwhelmed Jazz fans with his utterly atrocious defense and apparent chemistry issues with the team. With that said, he is an above average center on the offensive end. He may be exactly what the Thunder need or could end up imploding the team.
I projected a 40% chance that Kanter was going to be on a team other than the Jazz this season. He simply was not worth anywhere near the money he was due to make in free agency this year ($70 Million over 4 years). Favors and Gobert already made it clear by all-star break last year that they were the best 2 bigs on this team.
We thank you, Kanter, for netting us a few solid assets in Tibor Pleiß, and a future 1st (lottery protected from OKC) and 2nd round pick.
This year's 4th best player should not be a surprise to many following the rankings so far, the one, the only....
#4.
Alec Burks

, 5th year, 24 years old, 6'", 195 pounds, SG (Last year's rank: 3)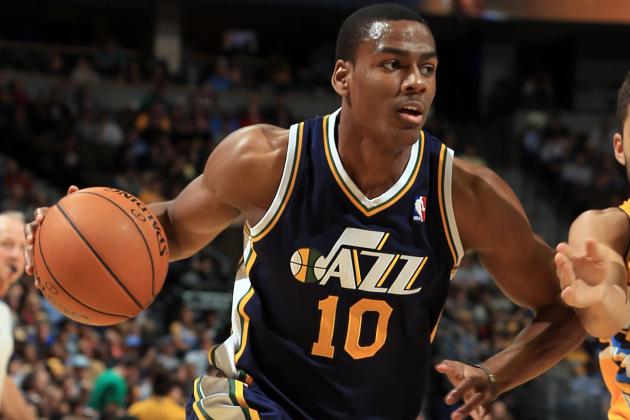 Source: Getty Images
Backstory:
Last season 37% of the votes said that Burks was underrated at the third spot last year. That's right, more than a third of the votes said he was going to be better than at least one of Favors or Hayward last season.
Quite a few had him as their best player on the Jazz going into last season. This is being retold today just to show how high we were on Burks last summer, and for good reason.
He was averaging 14 points off the bench in 28 minutes with 45.7% shooting in the 2013-14 season. That is sixth man of the year numbers right there!
Last year was supposed to be his time to solidify his spot in the Jazz's big 3, his shoulder had other plans for him.
Burks went from averaging 18 points per 36 minutes off of 46% shooting to 15 points per 36 minutes off of 40% shooting.
Despite Burks getting to the point where he couldn't even lift up his arm by game 27 this season, he still had a meaty amount of highlights last season:
Burks going down 1/3 of the way into his first season as designated starter was a punch in the gut for him as well as the team, we all hope his surgery and recovery transforms him back into the player we all were envisioning him to be last year.
What to Expect This Season:
Source: Deseret News
At this point, it appears that Coach Snyder is giving the incumbent players the starting positions (Started Burke, Burks, Hayward, Favors, Gobert in game 1 of preseason). If this is held throughout the season, I can see Burks being back to his slashing and smooth scoring self.
One concern that should be brought up is how advanced stats hold Burks in a less positive light. He's only had an above average PER once in his career (15.8 in 2014), a negative defensive plus minus every season, a positive offensive plus minus only once, and an unimpressive VORP that's never exceeded 0.5. Less than ideal for a player making 8 figures.
This is the season that determines whether giving Burks that 4 year $41 Million extension was a good deal or not.
I would pay close attention to 3 factors over these next couple career defining seasons for Burks
Will injuries become a bigger issue?- Burks has played 73% of his possible career games through 4 seasons. By season, he's missed 7, 18, 4, and 55 games.
Will Burks be able to become a positive impact player on the defensive end?- With the culture and identity Coach Snyder has been instilling, Burks' future role on this team may end up being directly linked to the effort and effectiveness Burks has on the end of the floor he has not been historically dominant on.
Will Burks' strengths be the complementary tools this team needs?- Burks has been a sneaky player who knows how to get his free throws and also knows how to channel his inner corner pimp (making 40% of his threes from the corner in his career, 47% last year). He's not going to blow you away with his play-creation, assist-to-turnover-ratio, or steals.  This season we'll get a better idea of whether or not Quin finds a way to capitalize on Burks' unique skills.
If Burks' offensive ability takes another leap, we may well have ourselves a dark-horse candidate for our first 20 point per game scorer to finish the season with us since 2008 Boozer. I wouldn't count on it, but that is his attainable ceiling.
I'm giving Burks the benefit of the doubt that he'll have a bounceback year and that hopefully Hayward and Burks both being on the wings as legit offensive threats will help them be able to both attack the defenses more aggressively and efficiently.
As for how Burks will do this season, I went with some cautious optimism that he will have a nice year back from injury while performing at the level he did back in 2014 before the injury issues started hitting him more seriously last year:
| | | | | | | | | | | | |
| --- | --- | --- | --- | --- | --- | --- | --- | --- | --- | --- | --- |
| G | MP | FGA | FG% | 3P% | FT% | TRB | AST | PTS | PER | WS | VORP |
| 70 | 30.0 | 10 | 0.420 | 0.360 | 0.820 | 4.0 | 4.0 | 14.0 | 16.0 | 5.0 | 1.0 |
Burks will be a positive reinforcement to our squad while simultaneously being a definite notch or two below our new big 3 in our frontcourt.
Conclusion:
I'm excited to see what a healthy Burks and Hood SG rotation can do for our squad this year.
Hopefully they will be able to elevate our point guards from the anticipated struggles they'll experience this year.
Burks' role will be one of the most intriguing this season as he is the biggest addition to the successful post-all-star-break squad last season that had a league-best defense and would have been on pace for 54 wins if they played that well all season.
Burks will end up somewhere between a shooting guard version of Kanter (all offense, no defense) and an equally dangerous threat on the wing with Hayward this season.
Chances of him being with the team in the 2016-2017 season:
85%