Well this is where the Jazz are now-- over 5 years removed from winning a playoff game. 

Before I continue on, you may be asking, now JuMu, isn't this piece a bit of an overreaction to our team's current slump?
My response: it absolutely is, and do you know why? It's because I'm a Jazz fan. Do you know what fan is short for? Fanatic. The defintion for fanatic on Google: a person filled with excessive and single-minded zeal.
Now if you are one of those people who follow the Jazz who look down on others who overreact to the Jazz, then you are simply judging Jazz fan(atic)s. Live and let live, casual Jazz observer. I'm an unapologetic Jazz fan(atic).
Now that this disclaimer is out of the way, time to delve into this piece, as we journey through what the Jazz have been through since their last playoff win.
Sloan's Swan Song of 2011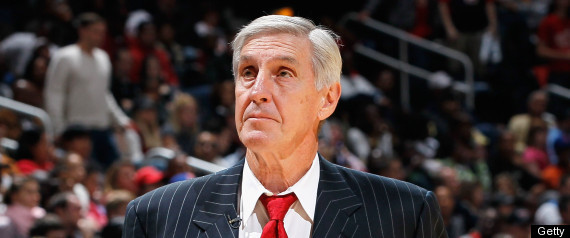 Image Source: Getty
The Jazz were in a pickle. We had just lost to the Lakers in the playoffs 3 straight years following what turned out to be the best year with the Boozer-Williams core in their run to the Western Conference Finals way back in 2007.
Then the core broke up, we lost key pieces in money-chasing Boozer, sharp-shooting and under-utilized-here Korver, and diamond-in-the-rough Matthews. We tried to replace them with Al Jefferson and Raja Bell. It surprisingly went really well for half a season.
Then the ****storm happened.
The Jazz went from an astounding 27-13 record in the 2010-11 season before hitting a rough 4-10 patch that climaxed with pouty ingrate Deron Williams and Sloan butting heads for what would be Sloan's last straw.
Sloan left his coaching legacy behind.
The Jazz filled in the void with Corbin and realized that the franchise was better off without a Deron Williams that was unlikely to return to the team the following season, and certainly not the shell of the 20 point 10 assist version of Deron Williams.
So where the heck are the Utah Jazz supposed to go from here?
Well you try to get the most value you can for your star.  We ended up being the winners in the deal by receiving Derrick Favors, the pick that would become Kanter (who was worth a top 3 pick on one end of the floor, unfortunately you can't sub out players in the NBA every possession on one end of the floor), Devin Harris, one of the 2 picks that were traded for Trey Burke, and a few million in cash.
Today, I don't think you would find a single GM who cared about his job who would trade Favors for Williams straight up, so kudos to the Jazz front office for pulling the trigger on this trade.
Life as a Jazz fan since the Derrick Favors trade
Image Source: USA Today
The Jazz did the smart thing in receiving great ROI while they still could for their disgruntled former star, but was it enough to save the sinking ship? Were we even supposed to try to save the sinking ship?
The Jazz were caught in the tough position of still retaining the rest of their core (in Big Al and Millsap) that was meant to be competitive while receiving 4 quarters for a dollar at the time with the trade.
The Jazz obviously saw themselves as being closer to a competitive team at the time than a team that should be competing for ping pong balls so they continued to push onward.
This turned out to be a detrimental move that has led to the franchise still not winning a playoff game since Sloan retired.
The Corbin-led Jazz even in their best years suffered from many variables, not limited to a big-man log-jam, the Al-fense, a near league-worst backcourt (Devin Harris, Raja Bell, Josh Howard, Mo Williams, Randy Foye just to name a few starting guards during this stretch), and that's not even including the evidence that maybe Ty Corbin wasn't the proper choice to lead the Jazz during this era.
Enter Dennis Lindsey
Image Credit: USA Today
To many Jazz fan's delight, despite previous GM Kevin O'Connor doing a decent job during his tenure, new GM Dennis Lindsey became this team's new GM. Our saving grace.
Now do we put too much blame on the GM of this team at times? Yes.
Is this abnormal for a team's fans to do? Not at all.
It was evident that Lindsey couldn't just clean house and recreate the team's identity overnight. The Jazz are a small market team that at the end of the day is a business. The Jazz would have lost substantial profits having to pay multiple coaches at once if they fired Corbin earlier and made a new hire.
Our GM's job is to provide us a team that can lead us to winning (and best case scenario, contending-level) basketball while constrained to the natural and financial framework of the team he is provided with.
With that said, by the summer of 2013, a year into Lindsey's tenure, it became apparent that this team was no longer on the competitive track. We had to do a hard reset.
Luckily we still had the core 4 of Burks, Hayward, Favors, and Kanter.
So where were the natural gaps that needed to be filled around this core?
Well point guard was an obvious one. The Jazz addressed this by trading for the draft's top consensus point guard in Trey Burke.
A tall/defensive big to help counterbalance the defensive sieve known as Kanter. The Jazz addressed this by trading for diamond in the rough Rudy Gobert.
Now Rome wasn't built in a day, and neither are successful young players.
However, I am convinced that the Jazz are a year behind the development path by not trying to implement a new system/coach meant for our young players to start learning and becoming a part of. But apparently the Jazz didn't see this as an option.
The 2013-14 season was instead a campaign filled with misery for the fans, but led to some nice feet-to-the-fire experience for our core. This was supposed to be the low-point of their careers.
This possible stealth tank season wasn't quite enough to net us a star in the draft in Wiggins or Parker, so we got the "next best thing" in Dante Exum. (Remember "next best thing", it will come up again later).
So next up, the 2014-15 season arrives, we finally have a new coach in Quin Snyder that the fanbase and players can gladly get behind and this becomes the first learning curve year of what is surely to be a highly promising group.
And oh my, was it quite the learning curve of a year. We had some low points, notably at certain parts of the season this was our team's record: 5-16, 8-20, 14-28, 19-34...yikes!
Then the Jazz made another right choice in pulling the trigger in trading our sore thumb of the locker room and defensive end of the floor Enes Kanter, unfortunately we were unable to pull the wool over anyone's eyes and get much value for a one-sided player on track to get a max contract in restricted free agency. We sold low, but even so, addition by subtraction was the result.
The Jazz had no winning streak longer than 2 games that season prior to the trade, in the short 29 games to end the season, the Jazz had 3 streaks longer than this. And finished strong with a promising 19-10 record and the top defensive team after the all star break.
This was our franchise's highest point in the last 5 years. A hot 2nd half of a season that gives us hope for the first time in half a decade of being a team that has a higher ceiling than the 8th seed.
The Jazz did good in dispatching one of the players holding the team back in Kanter and allowing the monstrous Hayward, Favors, Gobert frontcourt to flourish, but what about the backcourt?
Current state of the Jazz
Image Credit: USA Today
What about that backcourt?
The Jazz very well appeared to be on a track that would set them as a top 5 defense, if not the top defensive team in this upcoming season as of the summer.
The magical top-tier defensive lineup was Exum-Hood-Hayward-Favors-Gobert. But we wanted to get even better!
You didn't have to probe very hard last year to see that many were starting to point fingers at Trey Burke as the obvious next weakest link on the team to dispatch after an underwhelming sophomore year all while appearing to be a defensive liability and being a shooter who lost his shot.
But then in summer play in an international friendly, Exum's expected 2nd NBA season ended before it even began.
The current state of the Jazz fanbase took this as a letdown but as nothing to panic about. Besides, it would basically leave us at the status quo of a returning Alec Burks who was out for the last 55 games of last season.
Unfortunately, Burks isn't quite the same player to complement our starting lineup as a defensive specialist in the exact way that Exum was, so the Jazz decided to use his offensive prowess off the bench but still with meaningful big minutes.
That also leads to the current awkward situation of:
Hey Trey Burke, ol' buddy, ol' pal, we're going to need you to step up for this team despite taking your starting position (for justifiable reason) from you last season.
Thankfully Trey Burke got his groove back and started off with a nice bounce-back year for many games in this short season, getting more efficient shots in.
However, we still miss Exum's defense at the 1 that we haven't been able to fully replicate since.
Neto hasn't done a terrible job, but the eyeball test (and his low minutes overall for a starter) leads many to believe that it is clear that this he is no more than a stopgap option for this season, while a possible scenario for next season is that Exum will return as starter while the more complementary of the two of Burke/Neto will be the backup guard next season amd the other one will ride the bench hard or gets traded.
We actually started off strong this season with a 4-2 record. Then we started playing tougher teams and began to look like a team in the 40-48 win range.
Then Gobert went down
Image Credit: USA Today
We are now down 2 of the 5 players that led to our magical run in the 2nd half of last season.
It's clear that Burks, even if he is a solid offensive player as a slashing wing, is not quite a replacement for the role that Exum filled as a 3-and-D guard.
The Jazz triple-wing lineup has looked highly promising and combined with Favors and Withey may be our best 5 men lineup right now. So why haven't the Jazz incorporated that yet?
Well, I think these major injuries to core parts of our franchise in Exum and Gobert have really thrown this team for a loop and re-shifted their priorities once more.
Based on the rotations being played and the moves that Quin have been making as of late, I would not be one bit surprised if the moment Gobert went down, Dennis Lindsey walked up to Quin Snyder and whispered in his ear something along the lines of:
"Win or lose, what is most important to this franchise in the long term is for us to stay focused on the central tenets of this team's philosophy until we're contenders. Say it with me now....
Defense
Development
Discipline"
That's right, I am hypothesizing that the front office is not quite in the same win-now mentality that the majority of the fanbase has been clamoring for what feels like forever.
Would making the playoffs this year and getting some wins there this year be awesome and a step in the right direction? Absolutely, but not at the expense of compromising or limiting the window of this team's core (Favors, Gobert, and whoever is still with the Jazz in 2 years of Hayward, Exum, Hood, Burks, and future core players).
Does it suck as a fan right now to watch our team starting to go down the path of playing themselves out of the inside track for a playoff spot? Yes.
But the front office is really caught in an unenviable position of not achieving the success that was expected in this young season while not having any obvious move to save them without major gamble.
And now to address this piece's title.
Why is the Jazz's plan not working?
Now before I begin to break down this section, I'm not only talking about the current narrow time-frame of the Jazz currently being out of the West's top 8 teams, but also my perception of the front office's goal of having a contending, maybe even championship level team within the next few years not looking highly likely at this moment either.
Only being able to get "next best" players
Image Credit: USA TODAY
The Jazz have a special group of players. Our current 7 quality players are Dante Exum, Trey Burke, Alec Burks, Rodney Hood, Gordon Hayward, Derrick Favors, and Rudy Gobert.
These players are the ones most capable on our current roster of leading this team to wins. Are any of them stars? Before you answer, let me rephrase that. Are any of them a current top 10 player? My list currently reads in no specific order: LeBron, Durant, Davis, Curry, Westbrook, Paul, Leonard as the top 7 and 3 of Harden, M. Gasol, Griffin, Wall, Bosh, George to round out the top 10. So at this point, the Jazz do not have a star, or at least a player good enough to lead a team to the top third of the league.
What we do have is a big 3 in the "next best" group of players in Rudy Gobert, Gordon Hayward, and Derrick Favors. Most Jazz fans are high on at least one of these 3 players. But will any of them even ever make an All-NBA 1st or 2nd team? Not even sure if I can confidently bet on that at this point.
After our big 3, we have respectable fill-in pieces in Exum, Hood, Burks, and Burke. These players may be swapped out if the opportunity arises for someone who may fit more complementary to this team. (A couple examples being do we need 3 slashing type guards or do we need players who don't fit the defensive culture we're attempting to instill?)
But one problem this team has, that all but the few lucky teams like the Cavaliers, Thunder, Warriors, and Clippers encounter is we frankly don't have any stars who can elevate this team to contender status.
We haven't been able to hit a home run in the draft with the superstars of tomorrow with Davis, Wiggins, Towns.
We have been hitting singles and doubles and as such we are on track with all the other teams who do the same in the middle of the non-contender fray.
Now this team, if they can stay healthy, may once more become the defensive powerhouse we've dreamed of since February. However, like what Quin said along the lines of earlier this year, we haven't accomplished anything yet, no reason for us to act like we have yet. Speaking of Quin...
Quin's system may take a long time to implement properly
Image Credit: USA Today
One of the first indications of what type of team Quin wanted this to be is when he said he wanted the Jazz to play with a pass.
The Jazz are currently 3rd in the league (to the Spurs and Knicks) in passes per game at 343.5 (league median is 307). Unfortunately there is some gap keeping us from offensive success as the Jazz are also currently 3rd TO LAST in assists per game with only 18.3. Unsurprisingly this leads the Jazz  to being the bottom of the league in our Assist to Pass % at only 5.3%.
And this is not just a matter of our players missing shots. The Jazz also rank 4th to last in potential assists (assists that would have counted if the basket was made) at only 38.8 (league median 43.5). Now team pace still being a league low 93.9 possesions per game is a factor in this.
However, even when adjusting for pace, the Jazz's assist ratio is still the 4th worst in the league!
This is usually the sign of a terrible team, yet Jazz still rank in the middle overall for offensive efficiency and effective field goal %, which is quite peculiar.
I would like to see someone do a piece solving this mystery for how the Jazz offense is still bearable despite terrible assist numbers.
The Jazz this summer failed to either (a) realize the lack of depth this team has or (b) round out this roster properly with players who are not a liability
Image Credit: USA Today
I remember hearing multiple times this summer that this Jazz team had depth. I was not fully convinced when I saw how lowly perceived our 2nd unit was nationally (NBA Rank link of team-by-team).
Now, this issue may be getting overly magnified as we are down one of our big 3, and one of our four other quality players.
I frankly, do npt have much confidence in having more than 2 of our non-top 7 players on the court at any time. Now that we are down 2 of the 7, it really doesn't help our team's cause.
Would playing our 5 best players in  Burke, Burks, Hood, Hayward, Favors small-ball unit be our best choice for a lineup right now? Probably not, it's been used for about 21 minutes this season and possess a +/- rating of 0.9. But Quin currently has the unenviable position of staggering lineups for a roster down 2 of its 7 quality rotation players.
While I love this team, I do admit that this team's bench is currently in a state of ineffectiveness. I'm afraid to say that the Jazz front office missed the mark if they were trying to give this team a roster that would be able to handle 2 injuries. Which leads me to my next point...
The Jazz's defense really, really needs Rudy Gobert to function effectively
Image Credit: USA Today
The Jazz's record, defensive rating, intimidation factor, and overall watchability have taken quite the tumble since Gobert has been out.
It doesn't take a rocket scientist to figure out that this team is not as good without Rudy bolstering the frontcourt next to our other beloved big Favors. Is this to say that Gobert is more than important than Favors or Hayward? It doesn't matter, maybe he is, maybe he isn't.
But what is evident is that without Gobert, this team does not have anyone to fill in the shoes of my personal vote for Defensive Player of the Year.
So where does this lead us in our team's future chances of being a contender in the next few years?
The Jazz's 3 Options to Contention
Image Credit: USA Today
Even past his prime, a superstar like LeBron James is enough to singlehandedly elevate the teams he is on to contending status.
This is a star-driven league where if you don't have one or multiple top 10-15 players, you simply are not going to have good odds of having a team that can beat these teams. So what do the Jazz do to work within the constraints of the reality that is the Superstars' league?
1) Develop a winning, defensive culture; hope we cultivate a star from within
This appears to be the most likely route that the Jazz are following.
We've got our Popovich/CoachK disciple as coach.
We've got a GM handpicked from the Spurs system.
We've even got a few really promising young players who look to be capable of leading our Jazz to being a top 10 team in the NBA when healthy.
Will one of Gobert, Favors, Hayward rise up and become the team's carrier to success?
Favors has played the part of the heart of this team this year, he still has to take another jump or two in his game to get in the star conversation, but he definitely has been closest this year.
Hayward is the face that the franchise is pushing to be the leader of this team. He is a very good player, and perhaps a top 5 small forward in the NBA, but he needs to show me a little more before I let go of my reservations of seeing him best fit as a team's 2nd best player.
Gobert may be the real deal, if this injury happens to be a fluke and he's able to bounce-back and frankly, put this team back on track as a top defensive team and get us a playoff win THIS year, then I think Gobert may just become the unforeseen star that rises from this Jazz squad.
2) Acquire a star in a trade or free agency
I've been wanting borderline star Mike Conley on this team for quite some time, but I do acknowledge the drawbacks in the unlikelihood of him choosing the Jazz over all the other teams who will have likely more appealing situations for him.
So if we look at the trade option, as seen in the Deron Williams, James Harden, Kevin Love, Carmelo Anthony, Chris Paul trades, it takes a lot to trade for a star, especially one not on an expiring deal. This is a tough route as teams rarely even make their star players available in trade and the price it takes to pry the star away from the team has a great chance of being more than its worth.
These are a couple of the many reasons why I do not envision the Jazz trading for or acquiring a star in free agency.
I could see them bolstering our depth or trying to get a better 4th best player in the next year though.
3) Play the draft
The Jazz have already done this in recent years and failed to luck into the home run picks.
The Jazz picked the next best player in Gordon Hayward over Paul George.
The Jazz again picked the next best player in Alec Burks over Kawhi Leonard.
Honestly, those picks may have changed our franchise around, but I do not see those players becoming the ones they are today while playing the first few years of their career under our former coach.
Thankfully, the Jazz are moving in the right direction now with a coach and GM we can at least put some trust into, how far they will get in this iteration of the Jazz is yet to be seen.
The Jazz didn't tank bad enough to luck us into a #1 pick, and that's okay. We didn't mortgage this team's future in ways that the 76ers, Nets, and Lakers have done, and haven't been a terrible team in a way that the Kings and Timberwolves have been for more than a decade.
We've been through our worst years and now we are going to see how good we can play our cards now.
Closing Thoughts
Image Credit: USA Today
This journey and breakdown of the Jazz since their last playoff win has been enlightening.
It shows that although the front office and team has not done nearly as well as we would like, they certainly have been put in tough positions ever since the summer of 2010.
I do approve of their choices for the 2014-15 season and I hope that when Gobert returns and whatever possible trade is made mid-season this year helps restore my confidence in this team and it's path to create a legacy and identity of a defensive powerhouse that sets itself up to become a contender in its peak without compromising it's future assets in order to allow for a sustainable model that will not blow up on itself when one or two players leave in free agency or are injured.
We probably won't become a championship team by pure odds. But this does not exclude us from having a fun and dominant team for years to come.
This is a hard month to be a Jazz fan, but push through, let's see how this team looks at the all star break and hopefully laugh back at this tough stretch the Jazz faced in the early months of the season.
Thanks for going through this journey with me and I look forward to the journey ahead of us as the Jazz go through own personal redemption story of being able to find success for the first time since the greatest coach in our franchise history retired.
Keep on keeping on as the greatest fanbase in professional sports!
GO JAZZ!