Happy National Left-Hander's Day!
I myself am a lefty and decided to take it upon myself in my left-handed authority to inform you all that there are currently 42 players in the NBA who shoot left-handed as of last season (according to basketball reference). This is about 8.5% of the total players in the NBA last season.
Of these 42 players, 4 of them currently play on the Jazz! So kudos to representing the league well Rodney Hood, Trevor Booker, Joe Ingles, and Chris Johnson!
Now these Power Rankings are based off these players' performance when they played last season, so without further ado!
Complete NBA Lefty Power Rankings:
Group 1- Congrats on making it to the NBA!: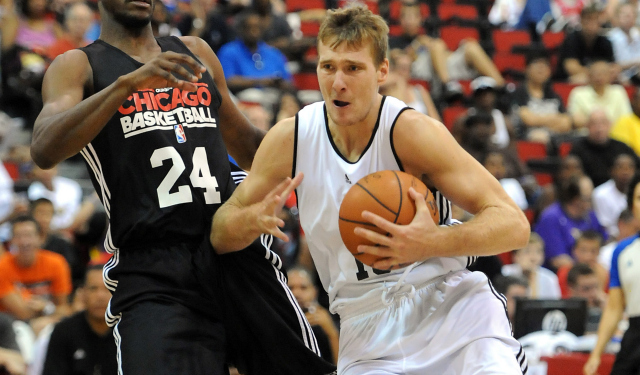 (Source: CBS Sports)
42. Zoran Dragic (1.8 PPG, 0.5 RPG, 0.3 APG, 4.7 MPG) - I think we all know why he was in the NBA last season.
41. Reggie Williams (1.9 PPG, 0.9 RPG, 0.5 APG, 5.3 MPG) - Hard to believe he averaged 15 points per game as a rookie on Golden State in 2010.
40. Elliot Williams (2.8 PPG, 0.6 RPG, 0.9 APG, 9.2 MPG) - Raise your hand if you remember some of the 42 minutes he played with the Jazz this season. Random Fact: Drafted 1 spot before Trevor Booker.
Group 2- Oh? Yeah, you're right, they did play in the NBA this season: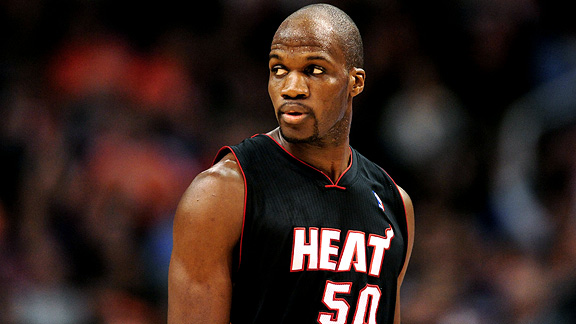 (Source: ESPN)
39. Joel Anthony (1.8 PPG, 1.9 RPG, 8.3 MPG) - He's only 32?! I swear he was one of those 40 year olds, Juwan Howard style.
38. Xavier Henry (2.2 PPG, 0.4 RPG, 0.3 APG, 9.6 MPG) - Remember him? Yeah, he was drafted 3 spots after Gordon Hayward in 2010; a 12th pick, aka the pick Burks was drafted at the year after. The Jazz have not drafted a true bust in at least a handful of years.
37. Kendall Marshall (4.2 PPG, 1.0 RPG, 3.1 APG, 14.9 MPG) - Yeah he was a lottery pick too. I, and many others, thought he was going to turn out a lot better.
36. Bernard James (2.8 PPG, 2.4 RPG, 0.9 BPG, 9.9 MPG) - I enjoy this man's name. You put the word "Saint" before either his first or last name and you get interesting yet differing results; before his first name you get a breed of dog, before his last name you get the name of one of the monopoly properties.
Group 3- Young Guns:
(Source: Boston.com)
35. James Young (3.4 PPG, 1.4 RPG, 0.4 APG, 10.7 MPG) - I appreciate that someone whose last name is "Young" is one of the few teenagers in the NBA (it's the little things in life...).
34. Julius Randle (2.0 PPG, 0 of any other positive stat, 14.0 MPG) - Hate to see a lottery pick go down in his first game, hoping he makes a good recovery this season to help the Lakers get consecutive 9th seeds in the west for the duration of his career.
33. Sergey Karasev (4.6 PPG, 2.0 RPG, 1.4 APG, 0.7 SPG, 16.8 MPG) - This 21 year old started 16 games this season with the Nets. Does any one top him last season in the category of "Most unheard of player to start 10+ games for a playoff team", I'd like to hear your choices.
32. Mitch McGary (6.3 PPG, 5.2 RPG, 15.2 MPG) - I liked him as being the Thunder's backup big, but with Ibaka, Kanter their starting center, and Adams ahead of him in the pecking order, I wonder if he'll get the minutes this year.
31. Chris Johnson (5.7 PPG, 1.9 RPG, 0.9 SPG, 18.1 MPG) - I like his moxie, hope he makes the final roster cuts this season.
30. Kent Bazemore (5.2 PPG, 3.0 RPG, 1.0 APG, 17.7 MPG) - Was sneakily one of the key cog rotational players to the Hawks' success this year.
29. Kostas Papanikolaou (4.2 PPG, 2.7 RPG, 2.0 APG, 18.5 MPG) - He sure embarrassed the Jazz in our season opener last year when he drained 4 three pointers.
28. Tyler Johnson (5.9 PPG, 2.5 RPG, 1.3 APG, 18.8 MPG) - Earned his keep for the HEAT on the defensive end last year.
Group 4- The Rollercoaster Career Players: (Source: Hoopshabit.com)
27. Josh McRoberts (4.2 PPG, 2.6 RPG, 1.9 APG, 0.7 SPG, 17.4 MPG) - After being a key piece of the Hornets playoff run, had a disappointing and injury-plagued season with the HEAT.
26. David Lee (7.9 PPG, 5.2 RPG, 1.7 APG, 18.4 MPG) - At one point, he played at a level worthy of him being the highest paid player on his team; last season, Kerr had trouble finding a proper place to fit him into his championship-winning rotation.
25. Beno Udrih (7.7 PPG, 1.8 RPG, 2.8 APG, 18.9 MPG) - I know he's from Slovenia, but it looked like his parents were going to give him a typical Westernized American name and then got drunk halfway through.
24. Brandon Wright (7.7 PPG, 4.3 RPG, 1.3 BPG, 19.3 MPG) - If you asked me his stats off the top of my head before this, I would have said waaaay higher numbers. He is a much more poorer man's version of Gobert than I thought.
23. Michael Beasley (8.8 PPG, 3.7 RPG, 1.3 APG, 21.0 MPG) - Beasley really should be higher on most people's biggest NBA busts lists. This guy was a number 2 pick after Derrick Rose, and Rose is still outperforming him on half a leg.
Group 5- 1st Year with the Jazz:
(Source: Multiple pictures joined together with my frankenstein paint skills)
22. Joe Ingles (5.0 PPG, 2.2 RPG, 2.3 APG, 0.9 SPG, 21.2 MPG) - Was the surprise starter for much of last season, mainly due to the Jazz being able to keep an infirmary in business with their shooting guards.
21. Trevor Booker (7.2 PPG, 5.0 RPG, 19.8 MPG) - Fun passionate player who has his fair share of awesome plays and the occasional bout of tunnel vision of where everyone knows he's taking the next shot.
20. Rodney Hood (8.7 PPG, 2.3 RPG, 1.7 APG, 21.3 MPG) - One of the more intriguing storylines this season for me is whether Coach Q will opt with Hood starting with Burks off the bench or vice versa. Both are versatile multi-faceted guards.
Group 6- 2005 NBA Finals Matchup: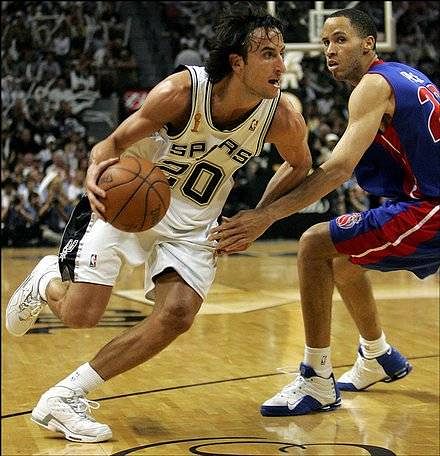 (Source: Sportskeeda)
19. Tayshaun Prince (7.5 PPG, 3.6 RPG, 1.6 APG, 24.1 MPG) - Was one of my favorite players back in the day; curious if he still has another above-average season left in him.
18. Manu Ginobili (10.5 PPG, 3.0 RPG, 4.2 APG, 22.7 MPG) - The 3rd piece of one of the most dominant and long-lasting NBA dynasties. He is in the twilight of his career, but what a career it has been.
Group 7- More of the Under-30 crowd:
(Source: Getty Images)
17. C.J. Miles (13.5 PPG, 3.1 RPG, 0.9 SPG, 26.3 MPG) - Seems like he was with the Jazz for so long and also a long time since he left, yet he's only 28.
16. Shabazz Muhammad (13.5 PPG, 4.1 RPG, 22.8 MPG) - Had an excellent bounceback sophomore season after a lackluster rookie campaign. Minnesota says no take-backs with the Shabazz+Dieng for Burke trade.
15. Ed Davis (8.3 PPG, 7.6 RPG, 23.3 MPG) - Once upon a time 5 years ago, a younger JuMu was frustrated that Monroe was already taken and that the Jazz picked Hayward over Ed Davis.
14. Brandon Jennings (15.4 PPG, 2.5 RPG, 6.6 APG, 1.1 SPG, 28.6 MPG) - He looked to be one of the next great point guards at one point, now he's in the conversation for one of the worst starting PGs.
13. Isaiah Thomas (16.4 PPG, 2.3 RPG, 4.2 APG, 25.8 MPG) - Gained a bit of a reputation as a chucker, surprised that Sactown traded him and that likewise Phoenix gave up on their 3-headed PG experiment so soon.
12. Tony Wroten (16.9 PPG, 2.9 RPG, 5.2 RPG, 1.6 SPG, 29.8 MPG) - his basic stats look pretty decent, but one must remember the caveat that somebody has to put up the numbers on this dumpster fire of a 76er team, Wroten is that somebody.
Group 8- Rockets Frontcourt of Last Season:
(Source: Clutchfans)
11. Josh Smith (12.4 PPG, 6.4 RPG, 3.3 APG, 1.0 SPG, 1.4 BPG, 27.7 MPG) - Great addition to anyone's fantasy team, a questionable addition to anyone's contending team. Says that his family is going to struggle living off of $6 Million next season with the Clippers, what a maroon.
10. Terrence Jones (11.7 PPG, 6.7 RPG, 1.8 BPG, 26.9 MPG) - Good young talent of a big man who doesn't get enough credit in the league.
9. Donatas Motiejunas (12.0 PPG, 5.9 RPG, 28.7 MPG) - Lithuanian big man who was once in the discussion of young Euro-player rivalries with Jonas Valanciunas and some other Turkish former overall 3rd pick whose name escapes me.
Group 9- Good enough to be a Contender's 3rd best player:
(Source: Piston Powered)
8. Thaddeus Young (14.1 PPG, 5.4 RPG, 1.3 SPG, 32.0 MPG) - Not anywhere close to being a household name to the casual fan, Young has gone 7 straight seasons scoring at least 12 points per game, a consistent steady contributor.
7. Goran Dragic (16.3 PPG, 3.5 RPG, 4.5 APG,1.0 SPG, 33.8 MPG) - Now that he has switched conferences, he may very well have a shot at being in the All-star conversation next season. To those who think that claim is ridiculous, remember, he was All-NBA 3rd team in 2014.
6. Greg Monroe (15.9 PPG, 10.2 RPG, 1.1 SPG, 31.0 MPG) - A fair share of people have their criticisms of Monroe's game, but a small part of me has always wanted Monroe on this team; not sure if I would pick him over either of Favors or Gobert though.
Group 10- The Top 5 Lefties in the NBA Last Season:
(Source: NBC)
It started getting really tough for me to decide on the rankings of these top guys, especially the top 3, I see them as the top tier of left-handers in the NBA, you could convince me of several different orderings of these top 5, but here is what I went with:
5. Zach Randolph (16.1 PPG, 10.5 RPG, 32.5 MPG) - This double-double machine of a player is no longer in his prime, but even this shell of his old self is enough to crack the top 5 of lefties in the NBA last season. Really glad he got his career on track after his shaky beginnings.
4. Mike Conley (15.8 PPG, 3.0 RPG, 5.4 APG, 1.3 SPG, 31.8 MPG) - I really, really, REALLY want Mike Conley on this team. I see this team with Mike Conley at the helm as a team fighting for homecourt advantage in the playoffs.
*takes off Jazz-homer Do-rag*
Mike Conley has been the most underrated player in the league for much of his career, his defensive prowess and playmaking abilities put him in the top 10 PG in the league conversation, if not top 5. Keep representing us lefties well Mike!
3. DeAndre Jordan (11.5 PPG, 15.0 RPG, 2.2 BPG, 35.4 MPG) - Who do you take for the NBA rebounding leader next season: Jordan or the field? His basic stats look great, but he is definitely overrated on the defensive end although he is still excellent on D.
2. Chris Bosh (21.1 PPG, 7.0 RPG, 2.2 APG, 0.9 SPG, 35.4 MPG) - I was considering ranking Bosh lower due to the season-ending condition he went through about halfway through last season, but the level of play I was seeing from Bosh was the closest thing we've seen of the entertaining Toronto Raptors version of Bosh since he's joined the HEAT. The HEAT would have been a lock for the playoffs had he been able to stay on the court all season. Not many players on this list singlehandedly make or break their team's playoff chances on the same level that Chris Bosh does. Also, Bosh and #1 on this list are the only two to crack 20 PPG last season.
1. James Harden (27.4 PPG, 5.7 RPG, 7.0 APG, 1.9 BPG, 36.8 MPG) - Regardless of how much you enjoy or despise watching his style of play, there's no denying that he was the best lefty in the league last season. He was 2nd only to Stephen Curry in MVP votes this season! That's right, people saw this lefty as a more valuable player than LeBron, Anthony Davis, Chris Paul or any of the other 490ish players who played in the NBA last season.
Keep on cooking highlights for us lefties James, you are the current face/beard of left-handers in the NBA!
Thank you for reading and feel free to put your top 5 or 10 lefties in the comments! And remember to give all the lefties in your life today some love!