First of all, our hopes were based on the team's record to end the year: 20-11. Let's look at the team that surged to the end like that and see where the pre-Dante's knee optimism came from:
The starting frontcourt. We knew they were good, but that graphic created for Hardwood Paroxysm and brought to our site by Shums really made it real: the Jazz had the most productive starting frontcourt in the league last year:
There are a couple of amazing things to think about this: WAR is a counting stat ... you get more the more you play. And this top starting frontcourt WAR was included Rudy Gobert starting less than half the season. Plus that was only Rudy's 2nd season. Many stars make a second leap in productivity in year 3 ... and Rudy's given us every sign that he's doing his best to make that happen.
Now look at Derrick Favors: because he has been brought along so slowly by the Jazz, I feel like he still has a mini-leap in him. He played at an All-Star level last year, and I think it's possible he'll play at a level that everyone recognizes it instead of just Jazz fans.
Now look at Hayward. I don't think there's another leap from him. His best last year is probably his peak for the next 5-6 years. Which is fine: Hayward was easily one of the best SF's in the NBA last year. But Hayward wore down last year. He was asked to be everything for the team offensively, and it took its toll: His FG% dropped to 40% and his 3P% dropped to 29% over his final 20 games. He only hit 50% of his shot or more 3 times over that stretch. And so we hope Hayward can play as well as he did last year ... but without wearing down so much.
So, our hopes for a playoff run this year was based on a hope that the league's best frontcourt actually becomes better next year: that Gobert makes another leap while also starting the entire year, that Favors has a mini-leap left in him, and that Hayward won't wear down.
How do you feel about these hopes if Exum misses a year?
Rodney Hood.
For much of the season, the Jazz threw out whatever D-leaguer they could find at SG. Burks was out. Hood was out. This is a major reason that graphic above suggests the Jazz got pretty much nothing from their backcourt last year.
But then Hood returned, and what a run he gave us:
12 pts, 2 rbd, 2 ast, 1 stl, 46% FG, 42% 3P, 81% FT, 57% TS
What was even more fun was that he got better as he went, until he was actually giving the team Gordon Hayward-like box scores every now and then.
So some of our playoff dreams were hitched to Rodney Hood, hoping that he could keep this kind of production next year ... or perhaps even get better.
How do you feel about this hope if Exum is out?
Alec Burks.
To me, he's still a mystery. We still don't know what he can be under Snyder. Would he be like most the team and really improve and start to get it defensively? Or would he be like Kanter?
The little he played last season wasn't what most of us had hoped. A lot of that was due to his poor shooting % ... which was caused by an anomalous FG% at the rim. Seriously, his first three years were 64%, 62%, and 64% at the rim. Last year he shot 50%. I don't know if his shoulder was bothering him more than we knew, or what it was. But that's clearly different from his norm. If Alec shot 60%+ at the rim, we'd feel very differently about his year last year ... because aside from that his stats look fairly well-rounded: 4 rebounds, 3 assists, 82% from FT ... that's nice production from the SG spot.
But you can't write about Alec without mentioning his defense. Very good on-ball defense. Pretty bad off-ball D that made you wonder if he was even watching his guy occasionally. And yet, we saw Snyder help Dante learn to play great D. Quin even helped Trey become decent. And so we know it's possible Alec could turn it around.
So a lot of our hopes were based on Alec. That he'd finish at the rim better (pretty reasonable hope, I think) and that he'd play smarter, especially defensively ... still a mystery.
So how do you feel about these hopes if Exum is out?
The role players.
The reality of the NBA is this: 3 stars who are legit All-Star level players are enough to make the playoffs if the rest of the team is decent. The Jazz have 3 stars: they start the C, PF, and SF spots. So the real playoff hopes come from the others on the team, including the role players: Trevor Booker, Sloppy Joe Ingles, Raul Neto, Li'l Sap, Lyles, Pleiss.
We don't know what we'll get from the rookies ... though we all have hopes. But Trevor Booker proved himself pretty reliable (even if I wish he was a better passer). And Jingles really came on at the end of the year: shooting 45% overall and 43% from 3 during the last half of the year. He also gave the team 2 assists, 2 rebounds, and a steal per game in just 24 minutes per game. That's an effective role player.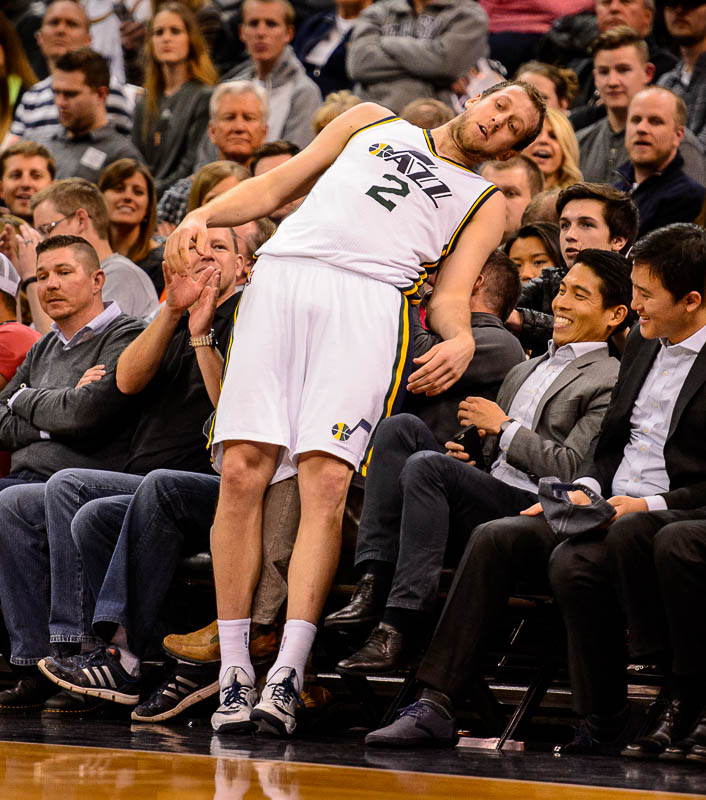 Really, all we need are Jingles to repeat his second half, Booker to do his thing, and just one of the others to be a productive bench guy. That's really all we were hoping for and need for this to be a playoff team.
So how do you feel about these hopes if Exum is out?
The PG's.
So here we are, finally addressing the real issue. Many of us kind of lost hope in Trey last year when his shooting actually got worse (worse overall, worse from 3, and worse from the line) while still taking more shots than anyone on the team besides Hayward. I think most of us hoped that he would stop trying to be a scorer, focus on spot-up shots (he actually hit these fairly well) and just help the team by assisting and continuing to not turn the ball over. His defense improved quite a bit under Snyder ... and well, if he could just do these things he'd be a nice backup PG and help the team much more than he hurts it.
And then there was Exum: poor shooting, timid, passive, yet a freaking nightmare defensively. And this was fun, because as a rule, 19-year-old rookies don't play demonic defense. But Exum did. And so we pinned a lot of hopes on him ... if he can shoot better, if he can become more confident and assertive, if he can become more of an offensive catalyst and relieve some of the pressure from Hayward. And then he played that one SL game that made us go:
And we got a little excited. Because if Exum could make a leap in his offensive game while still improving his defense ... that would single-handedly take the weakest spot last year and make it a strong one.
So now, if Exum's out, we're looking at our hopes for Trey and the unknowns of Cotton and Neto.
But still, Exum's play was only one of the reasons we hoped the Jazz could contend for the playoffs next year. Again, how do you feel about the other four if Exum is out?