This is part I of a series, check out part II after this one, for a continuation!
Today I'd just like to do a breakdown on each individual player on the roster, discussing skills, weaknesses, their projected role, and in what situation we'll see them best utilized.
Let's start off with the depth chart
I think this is a very reasonable and practical depth chart. Our goal this season is to win. "Development minutes" aren't what we're going for, though minutes shouldn't be lacking for anybody who isn't named Jeff, Raul, or Tibor. So here we go:
So let me explain this. The players in parenthesis are repeated, being able to play multiple positions. Technically, you could make it seven or eight strings deep, but I decided to cut it off here, to what we'd actually be likely to see at some point during the year. (And on top of that, there are lineups that could involve multiple guards, wings or bigs that typically play the same position, and it just scrambles everything up.) There are also issues such as George Hill possibly coming off the bench as a 6th man to more evenly spread out our talent in the rotation. So instead of defining "starters" and "bench", I opted to go with "strings" instead, which define the minutes played more so than position in the rotation.
My minutes projection would go something like this:
George Hill: 30 min - Dante Exum: 18 min - Shelvin Mack: (Injury reserve & situational) - Raul Neto (Injury res.)
Rodney Hood: 28 min - Alec Burks: 17 min
Gordon Hayward: 33 min - Joe Johnson 18 min - Joe Ingles: (injury res. & situational)
Drrick Favors: 28 min - Boris Diaw: 23 min - Trey Lyles: 15 min
Rudy Gobert: 30 min - Jeff Withey (injury res. & situational) - Tibor Pleiss (injury res. & situational)
(Obviously, if a player is hot, you would play them more minutes in a specific game. This is simply a general projection to how it would average out. Lyles will certainly have games where he plays 30+ minutes. Diaw, Burks, Exum, Johnson, etc. could all have games like that as well.)
Let's break it down.
Starters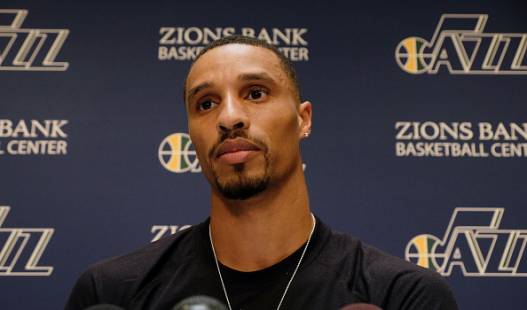 George Hill:
He's a legit NBA starting point guard. According to a 1280 the Zone interview of a reporter from Indiana, there were stretches last year where Hill was shooting the lights out as much as Steph Curry was. Obviously this wasn't for the whole season, but he is able to go on some mighty hot stretches.
Most likely, George will be a starter in the rotation. However, I could envision George coming off the bench as a sixth man, and finishing the game with the "starters". Regardless, we need to give him at least 28 minutes a game, based on the situation. Do not fear, we could certainly play him next to Dante Exum in some lineups, having George play a shooting guard role on offense, while guarding the opposing team's point guard on defense. He is a known quantity as a spot-up shooter, which is a perfect fit for our team with all the ball handlers we have. Remember last year, how our role players could hardly hit open jumpers? Yea, that should stop happening so often this year with the personnel we've brought in.
George has played 2562 playoff minutes, and will be a great mentor as we make the playoffs with this group for the first time. His experience should be exactly what the doctor ordered.
It's highly possible that as he ages, and as Dante develops, that he'll transition to a bench role in the upcoming years. But as for this year, expect to see him playing the most minutes out of the team's point guards.
His weakness may be his "disappearing act" that tends to happen. He isn't one to force his will on offense, often preferring to play off the ball. While this is beneficial in some ways, he's not going to be an allstar carrying the team any time soon. But overall, I feel he's good enough that he doesn't have any major glaring weaknesses. If "he's not as good as we want him to be" is the only weakness the Indiana reporter could come up with after watching him for five years, then I don't think there's too much to be worried about.
What I'm looking for this season: Good defense. He hasn't been a shabby defender, but I think that's an area he could improve on specifically in our system.
Rodney Hood:
I think there's too much to say about Rodney. He is turning into one of the best players on the team. The sky is the ceiling for this guy, and I love him in our system much more than Burks (sorry, man). His crafty offense, mixed with his size and speed cause him to be one of the best offensive options on the team. He could very well have a breakout season this year. Whatever happens, I hope we get to watch him in a Jazz jersey for many years to come.
His weaknesses are mostly on defense. He isn't always in the right position, and can be blown by on occasion. But he fights, and I think he's figuring it out. With another offseason of development, I don't think he'll be too shabby next year.
What I'm looking for this season: Like I already said, he needs to improve his defense. But I would also like to see him scoring more efficiently this year. He shot 47.2% on his 2pt attempts, and 35.9% on 3pt attempts. I think with added role players, he shouldn't have to force his shot quite as often, giving him more efficient opportunities. Later in last season, we saw him shoot a bit more efficiently, so hopefully he'll carry that onto this season. Consistency will be key.
Gordon Hayward:
This guy's game speaks for itself. He's the best player on our team, and likely our best shot at an allstar this season. He's building popularity through the league, and I think with a good supporting cast he'll finally put up the numbers to match the hype. Up to this point, he's been pulling a freight train almost by himself. Derrick and Rodney have been helping shoulder the load, but without Hayward, there is no way we would have been in the playoff race. And this season, with a team that is finally full of solid role players and veterans, I feel Hayward will really blossom. He is the heart and soul of this team, and this year's success will be determined on how far he can carry us with a good supporting cast.
Granted, in a few years, there may be a better player than him on the team. Exum, Hood, Lyles, or Gobert all have somewhat of a chance to turn into a superstar. But as of right now, Hayward is our best player. If Gobert develops a shot, or Favors becomes more aggressive, that statement could change over the season, but I believe Gordon is going to be improving as well.
The thing about Gordon is that he does everything well. He makes everyone around him better. The things he does don't always show up in stats. He was a point forward right before it was cool, and he can shoot the lights out of the building. His basketball IQ showed last year, as he was almost always in a good position on offense or defense. He's super clutch too. There's just not enough you can say about this guy. He's one of the best basketball players in the entire world.
What I'm looking for this season: I want to see him continue on the trajectory that he is on. He needs to take advantage of big moments when he is entirely open. That is one thing he said he would work on over the Summer. Hopefully we also see at least a little improvement on defense. He has done very well, but could always improve in that aspect.
Derrick Favors:
I know a lot of people are high on this kid, and so am I. With reservation though. When he plays aggressively, with heart, he is one of the best power forwards in the game right now. Other times, he is prone to the same disappearing act George Hill was famous for in Indiana. Don't get me wrong, even when he "disappears", he is a sturdy contributor to team success. He simply isn't always a take-charge guy. Early in the previous season, he showed massive flashes of potential as a team leader. He willed us to some big wins. But after he was injured, it seemed he never really returned to form for the rest of the season, though he did put up some impressive numbers.
Derrick is definitely tough. He is willing to play through injuries, even if it ruins his stat averages, as long as it helps the team. After the final game we had against Golden State, Favors went down with injury and could've called it a season. Yet, he knew that our goal was to make the playoffs, so he did everything he could to help our team win. That's very commendable. He can do a lot of things on offense and defense for our team, and is definitely our second best player (barring a Gobert breakout that is very possible, more about that up next). His passing is underrated, his shot is improving, and his post game isn't shabby either.
What I'm looking for this season: It has to be said. He needs to do what it takes to stay on the floor. Injury prevention will be huge. I'd also like to see him be more aggressive in his play. Obviously he needs to play smart, or he'll get clotheslined and sent to the floor with a new injury. But when there is an opening, there aren't many people who can stop him on his way to the rim. We also need better rebounding on a team that forces so many misses. Defensive and offensive rebounding will have to come from somewhere, and hopefully that's something he's been working on.
And last but not least, The French Rejection:
Rudy is fantastic. I think we all know what he's good at, and what is lacking. Looking at his offseason Twitter activity, it seems he's been taking care of everything he needs. He looks stronger. He posted a video of him making a long string of jumpers in a row. He's even developing his ability to connect with his fans, through a certain mobile app concerning the capturing of wild fantasy animals and forcing them to battle until one dies faints, and the other wins.
What I'm looking for this season: I pretty much already said it all. He needed to bulk up, and improve his shooting and overall offensive game. I think this is happening, and he is primed to break out this season. He is primed to be the best player on this team if he can take care of some of his weaknesses. He has the work ethic of an all-time-great, so I'm not very worried about him. I would like to see him be more vocal on offense and defense though. Our team needs to work on communication.
Well that's it for part 1
When I have more time, I will do a part 2, which gets to the real interesting part. We already pretty much knew all of this, concerning our starters. What about our bench? Well that is to come, young padawans. Why did I create my rotation the way it is? There is a method to the madness, all will be explained in time. For now, enjoy this gif of a capybara, and imagine that it is giving you deep life advice.