This is Part II of a series. Check out Part I before you read.
Let's discuss the minutes distribution of the 2nd string and beyond, why they'll be played for however long, and under what circumstances their minutes might change.
Today, I've been thinking about the bench.
It's almost inevitable that guys worthy of minutes on our bench will play little to no minutes in many games this season, with the minutes crunch. I'm really excited to see how Coach Snyder arranges all of this, because there is so much that goes into these decisions. The team is so deep, and the players are so talented, that there is plenty of room for creativity, if Quin believes an idea will work.
I'll re-post my original projection for what the rotation could look like:
I emphasized strings, rather than starter vs bench, because guys like George Hill could come off the bench and still play 30 minutes a game. Joe Johnson, I think, is straddling the line. There will likely be games that he starts for us, but most of the time, I presume he'll be the 6th man coming off the bench to add fire power to our squad.
Here are my minutes projections once again, for easier reference:
George Hill: 30 min - Dante Exum: 18 min - Shelvin Mack: (Injury reserve & situational) - Raul Neto (Injury res.)
Rodney Hood: 28 min - Alec Burks: 17 min
Gordon Hayward: 33 min - Joe Johnson 18 min - Joe Ingles: (injury res. & situational)
Drrick Favors: 28 min - Boris Diaw: 23 min - Trey Lyles: 15 min
Rudy Gobert: 30 min - Jeff Withey (injury res. & situational) - Tibor Pleiss (injury res. & situational)
(Once again, minutes are subject to change on a game by game basis, and throughout the season based on a plethora of variables.)
Let's break it down.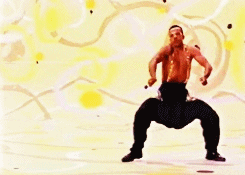 Dante Exum and the Point Guards
Dante is really an unknown coming into this particular season. He could break out and instantly be playing well enough to justify playing him 30+ minutes a night. Or, he could be yet another guy that the fans inexplicably turn their backs on, because he isn't producing immediately. It's possible he could fit in actually behind Shelvin Mack or Raul Neto in the depth chart if he's coming back even slower than we imagine. My prediction is somewhere in the middle. I think he'll play well enough to be getting minutes over Shelvin, but not well enough quite yet to be playing a major role.
I didn't see the infamous Summer League game, but from the highlights, I wasn't necessarily all too impressed. Dante looked much better than he did in his rookie season highlights, but none of the Summer League highlights seemed all too impressive. He showed the skills of a point guard, yet Raul Neto looks just as solid, though obviously doesn't have the size advantage. But size is exactly the reason I think Dante will get minutes over the other two in most games. If he can come back at the level he was during Summer League, I think he should be a solid contributor to the team. But it is extremely helpful that we now have not one but two solid backups for him in case he needs a little more time to re-develop into what he was.
I envision Raul and Shelvin putting up impressive arguments for minutes in practices. I would project that there will be a few games, especially earlier in the season, where Dante will get some DNP-CD's simply because one of the other two are playing well, or based on matchups. But by the end of the season, I believe we'll be getting our fair share of Dante's Inferno. While Dante can play next to George Hill, I don't think we'll see that very much. Though I do think it will happen. My allotted minutes assume that most games, George and Dante play primarily PG.
What I'm looking for this season: Rehab, defense, and 3pt shooting especially. If Dante accomplishes those three things, I think he'll be on track to become our future starter.
Alec Burks and the Shooting Guard Rotation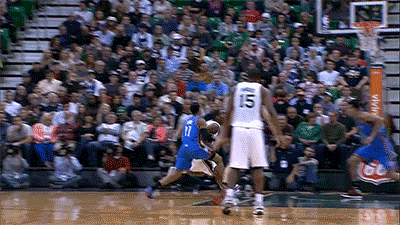 Alec is almost as much of an unknown as Dante. The biggest question mark surrounding him though is whether or not he'll actually be playing games. Alec is a fantastic player, but I feel his problem is that he forces himself through the defense, instead of taking what the defense gives him. This causes many circus shots, and many a time where he ends up landing awkwardly (such as in the above gif) or falling onto the floor. His body isn't necessarily "injury prone", but I feel the way he plays the game puts him in extra situations that can lead to injury. It's inevitable when you play basketball that you'll get bumped sometimes and probably land wrong. Every time you land strangely, there is a chance of injury, but you don't want extra dice rolls on that gamble. Alec is true to his nickname "Houdini", maybe to a fault. He tries for the seemingly impossible, and often makes it happen. He is definitely the most spectacular player on our team to watch. But does he really help the team to win? Well, a few stunning plays do not make up for the time spent sitting half the season on the bench.
His strengths are obvious, he's a good shooter, he is great driving the ball in, and he is a passable ball handler. His defense is solidifying, but still isn't what I would call a strength, especially considering off-ball defense. If he stays healthy, I don't feel he brings quite as much as Hood does to the table, and will therefore play less minutes and come off the bench. I feel that Joe Johnson might play some minutes next to Hayward in the wings, with Hayward guarding the opponent's SG (or best matchup), so I allotted for 3 minutes a game for that lineup.
What I'm looking for this season: Alec needs to take better care of his body, and improve his defense. I hope he transitions to more of a systematic player, rather than an ISO-drive player.
Joe & Joe
I'm very excited for the addition of Joe Johnson. he should bring some much needed firepower to our team. He's a huge upgrade over Chris Johnson and Joe Ingles. Ingles, on the other hand, will still be a nice piece to have on the team in case of injuries, and in some situational cases of small ball. I think it's self-explanatory that a starter on a very strong Miami Heat last year will be playing minutes over our last year's bench player.
What I'm looking for this year: I want Joe to continue to be a player coach. That's valuable to have in the locker room. While Joe is a smart player, sometimes he takes bone-headed shots. Sometimes he takes these contested pull-up jumpers at the beginning of the shot clock, and he's not someone who can make those consistently. It's inexplicable, and for the most part he takes smart shots, but I want that taken care of. I want Joe Johnson to be a consistent support to our team, whether he's starting or coming off the bench. I feel he's more likely to come off the bench and play some solid minutes, playing a few 30+ minute games when he's hot.
Trey Lyles, Boris Diaw, and Small Ball
This is where there just isn't enough time to play everybody. .....Or is there? As you'll notice on my rotation, Boris Diaw plays 23 minutes a game, and Trey is still able to play 15 minutes a game. How is this possible? Well, the same way Booker and Lyles were both able to play significant minutes last season. Gobert will play ~30 minutes a game at C, leaving 18 minutes a game for Favors and Diaw. I put Favors playing 12 minutes a game at backup C, and Diaw playing 6 for a "small ball" lineup. This means Diaw plays 17 minutes as backup PF, and 16+17 = 33, leaving 15 minutes a game for Lyles. Of course, Lyles might spend some time at C if we like his size better than Boris'. But it's definitely an interesting situation.
Lyles is breaking out and turning into a very good player, we need to make room for him to play minutes. He should help us win more than if we spent those minutes on a Jeff Withey or Tibor Pleiss (minus situational and injury minutes). Yet we still want to be giving significant minutes to Boris Diaw, as long as we aren't getting the Fezefied Boris, meaning the out of shape Boris that is lacking effort. We may also see some Joe Johnson, Joe Ingles, or even Gordon Hayward in small ball lineups. But I don't believe that would change the average MPG too much.
What I'm looking for this year: Lyles needs to continue being aggressive. I want to see him using his skills within the system, and being an efficient cog player on the floor. I want to see him showing flashes of stardom. He's going to be a great player, and maybe a franchise centerpiece if enough things go his way. His shooting looks good, and I want to see him show effort on defense in games that matter a bit more than Summer League games. Boris needs to be the San Antonio Boris, and not revert to his previously uninspiring player he was before. If he can continue to be consistent, we'll have a very versatile and powerful rotation of bigs.
Jeff and Tibber
They say a picture says a thousand words. Well, with how much that picture has to say, I don't have many words left for these two. Withey had a good showing last year, and will provide good minutes in situational moments. He will also be a good defending Center, in case of a Gobert injury. It will be interesting to see whether Quin will find minutes for Tibor in a limited role, to throw out something unexpected at the opponent. Him being able to hit 3's would really help with floor spacing, but I think putting Lyles or Boris at C would do that for us anyway. It's hard to see either of them getting many minutes, but I do like them both over Bolomboy this year. Both Tibor and Joel will likely be spending time together in the D-League either way. Which brings me to my next point.
SLC Stars - Joel Bolomboy, Marcus Paige, Tyrone Wallace
I think Tibor is more likely to make the team than Joel, mostly because both are not going to be difference makers this year, and Tibor is already under contract. Joel looks like a Carlos Boozer lite, minus the extremely refined post moves. Both were picked in the second round, both are rebounding specialists who are fantastic at cleaning up offensive boards. But Boozer was more NBA-ready and slipped because of a slight lack of size and quickness. Joel has the size, and athleticism, but lacks the refinement that Boozer had coming out of college. Hopefully he continues to develop, and it is easy to envision him as a role player in the NBA, but that will take some time.
Marcus Paige had an impressive showing in the Summer League. Sadly, we already have a glut of solid backup point guards. Will he be better than Raul Neto when all is said and done? It's hard to say. Both will be assets for the team, and possible trade chips.
Tyrone Wallace is a raw prospect, but what do you expect at pick no. 60? He should be an entertaining part of the Stars, unless he opts to play overseas.
I'm excited to see a few Stars games this year, it's very cool that we now have six notable basketball teams in Utah, including College teams. Speaking of which, there will be a "Zions Bank Beehive Classic" on Dec 9, 2017, featuring the four Utah college teams. Three years are scheduled, giving room for each team to play one another. This year, the Utes will play the Aggies, and the Cougars will play the Wildcats. You can read more about it here.
In conclusion,
This year is going to be the first in a long time that the Utah Jazz will have depth to their bench. These are just my predictions, but the fun part is how flexible this team is. There will be loads of lineups we'll see over the season. Some players may show up and play like all stars. Others may not turn out to be as good as we hope, but I believe it will even out. We're in for a treat this season, as it will easily be the most interesting season to observe since Jerry Sloan was our coach.
EDIT: As requested, here are some actual lineup projections.
These will vary by game and by matchup. But here is how my average minutes projection would play out in general: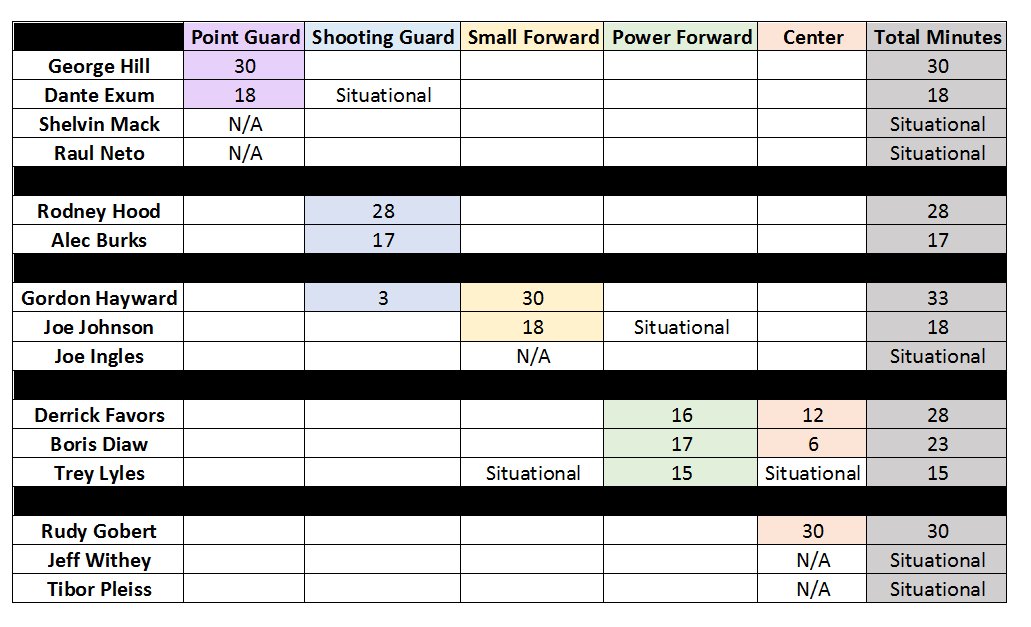 Here is a rough draft outline of the rotation that could happen with these minutes: Below the images, I'll break it down quickly.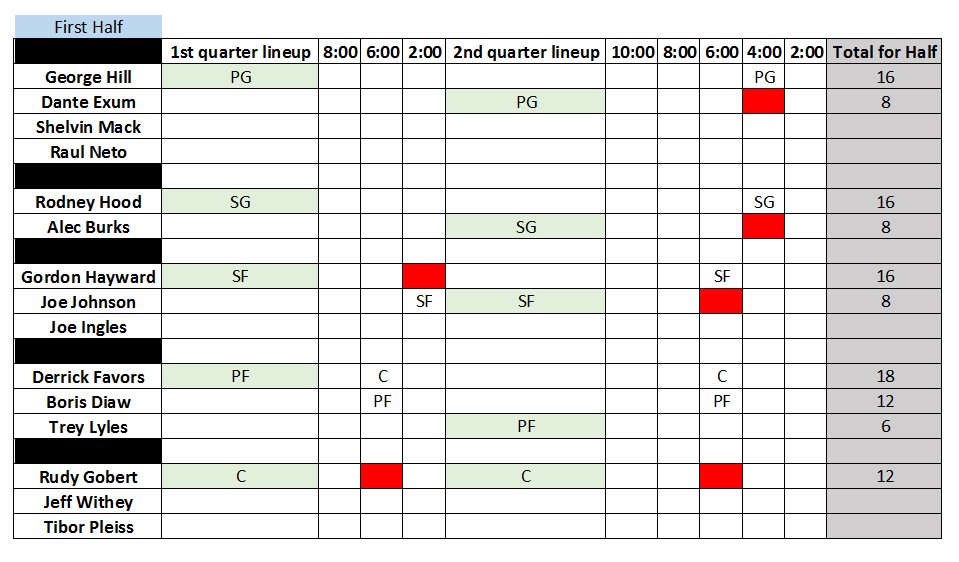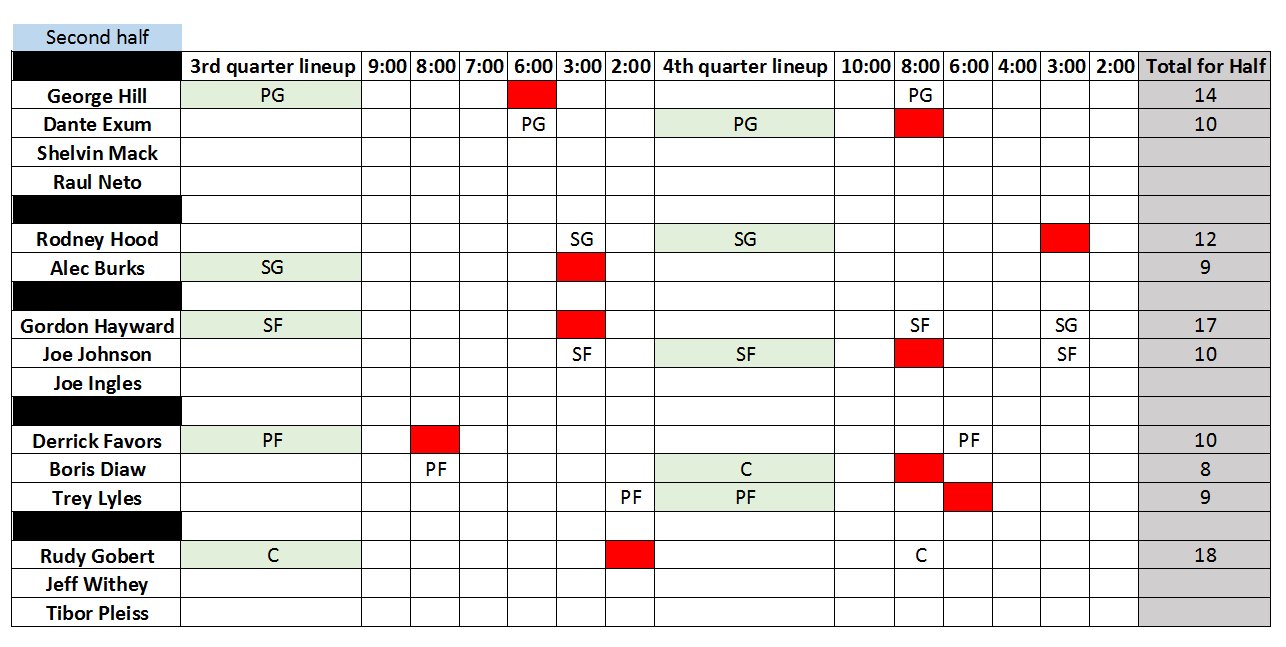 In the 3rd quarter, at the 2:00 minute mark, I forgot to mark that Diaw moves to C. Sorry, this was made in a hurry.
Here's how it goes:
First Quarter
Hill, Hood, Hayward, Favors, Gobert
to Hill, Hood, Hayward, Diaw, Favors
to Hill, Hood, Johnson, Diaw, Favors
Second Quarter
Exum, Burks, Johnson, Lyles, Gobert
to Exum, Burks, Hayward, Diaw, Favors
to Hill, Hood, Hayward, Diaw, Favors
Third Quarter
Hill, Burks, Hayward, Favors, Gobert
to Hill, Burks, Hayward, Diaw, Gobert
to Exum, Burks, Hayward, Diaw, Gobert
to Exum, Hood, Johnson, Diaw, Gobert
to Exum, Hood, Johnson, Lyles, Diaw
Fourth Quarter
Exum, Hood, Johnson, Lyles, Diaw
to Hill, Hood, Hayward, Lyles, Gobert
to Hill, Hood, Hayward, Favors, Gobert
to Hill, Hayward, Johnson, Favors, Gobert
Once Again, I do not think this is exactly what will happen, because it doesn't account for matchups, in-game adjustments, or Quin's personal strategy. I simply think this is on average what we could be seeing.
Thanks for reading!