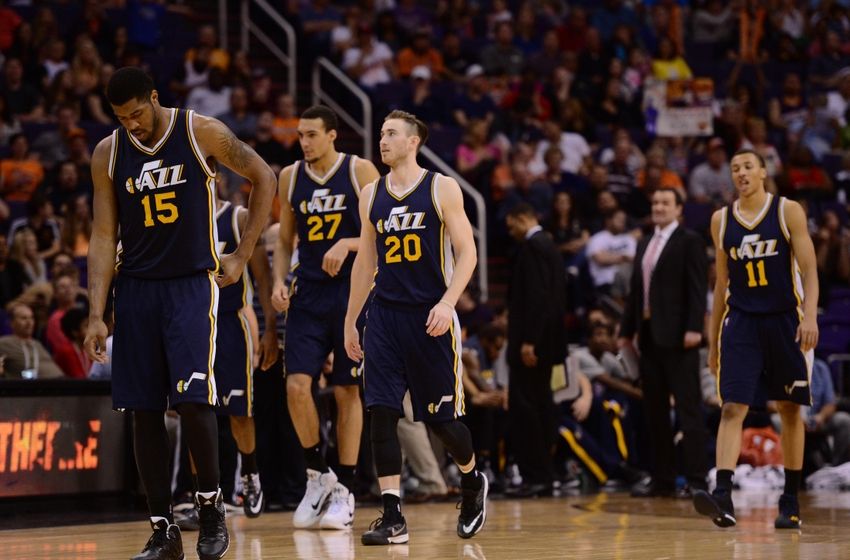 Give Exum some time this season, he'll catch up eventually. High hopes are good, but keep your expectations realistic.
There has been a plethora of posts projecting the postseason outcomes,
so I thought I'd make a post purely for hype's sake. Like hansenjames said, "It's okay to get hyped about the Jazz!"
The Utah Jazz' preseason will begin on October 3 in Portland. Yes, only 26 days, or less depending on when you ready this. So for starters, I'd just like to go over some brief thoughts about each main player, and share a short hype video for each of the main ones.
Gordon Hayward
The Golden Boy, the Centerfold Model, the Chosen One, and the Calibrated Casanova. We've read enough about him. Can he take the next step? I don't know, but there's plenty to get hyped about. Case in point:
Derrick Favors
The other team captain. Let's see what he can do in a healthy season. 20/10 this season? Maybe not, with the rebounding beast that stands under the basket. But regardless, he'll be crucial to the success of the team.
Note: There weren't any 2015-16 mixes of Favors that had music to them, so I'll use one that showcased both Favors and Gobert in the 14-15 season.
Rudy Gobert
Rudy will eat freaking with humans. The song in this mix is old, but nonetheless true. SALUTE.
Rodney Hood
This kid needs a nickname. Ice seems too cliche, but it fits him well. We have some pretty chill shooting guards on the team.
Alec Burks
Speaking of chill shooting guards, I better lead that into the king of cool himself. Mr. Houdini, if you please.
Once again, I couldn't find a very recent mix with music.
George Hill, Joe Johnson, Boris Diaw, Joel Bolomboy
It's more exciting to have videos of these guys doing stuff in Jazz jerseys, so I'm not going to use a video here for these guys. These guys are going to be huge for us, literally and figuratively. We got ourselves two guys with strongly rooted nicknames in Mr.Clutch and Bo-Bo. "Ballin' Boy" is apparently the nickname Joel had through college, but we can do better than that.
Dante Exum
Once again, I won't post a video. Here's where the real commentary comes in. We have George Hill, Raul Neto and Shelvin Mack as a completely sufficient point guard rotation. We are very well put together to handle a setback in Dante's development, if it takes him another year to get back to the point of being a legitimate option as a starting--or even backup--point guard.
I predict that Dante will come off the bench, and may even be the third string for a little while, depending on how good his is coming into training camp. This is good. This is fine. No need to overreact if this happens. Most likely he will be coming back as second string, but it's very possible that he's just not quite ready for that yet. Whatever will give him the best chance of being great in the future is what we should want now.
Shelvin Mack
Shelvin is good. I think he'll present a very strong argument to be the second point guard off the bench. With Exum coming back, we have a 4-deep logjam at point guard. I wonder how Quin will handle it, because there's also a logjam at PF. We may see a lot of small lineups. It should be fun guys.
Raul Neto
The Brazilian Boyfriend. Or at least that's what all the women would like him to be (and maybe some men as well). He's a solid 3 and D point guard, and probably our future second string PG, when both Exum and Neto are in their primes. Neto may even be a starter again in his career, one way or another.
Trey Lyles
Even though this isn't a bonafide "hype video", it's still very good. He's going to be good.
Jeff Withey
We'll see if he gets off the bench, which may be unlikely with so many talented players on the bench in logjams.
Get ready for the ride of your lives this season. #MakeUtahJazzGreatAgain #GetHyped #26Days
And finally, here's one of my favorite hype videos I found. It's well made. I think it might have been in a Downbeat, but I thought I'd put it here again, because it's a good way to end this on a high note.
Thanks for reading/watching!