Sooooo, the Utah Jazz lost to the Atlanta Hawks, and did so in a very polarizing way. The team was up by 13 points, but their offense (which is still one of the best in the league) screeched to a halt in the fourth quarter. The team did not win, despite playing an exciting and effective game for 43 minutes. Do you want to complain about a team's inability to close games? You can. Or do you want to revel in the moment that this is a team that is showing the incremental stages of being a team that's able to compete on any night on any home court, against any team? Or a little of column A, and a little of column B?
I am certain that the team -- from the players to the coaches -- wanted the win. There's a feeling of "the one that got away"-ism with the Indiana Pacers game and the Atlanta Hawks game. If the team didn't lose those two games they'd be 5-4 right now going into the game against the New York Knicks. But they did lose those two games, and are 3-6.
The Phoenix Suns of last year came out of nowhere to not only play well, but win games. And if you ascribe to the notion that we are the Suns of this season then early season losses (that should have been wins) are a big blow to the ego. By the W/L record I guess it's true that the Sacramento Kings are more like the Suns of last season than the 3-6 Jazz. (Sacramento just lost at the buzzer to the 8-1 Memphis Grizzlies, and fell to 5-4)

Irregardless
Regardless, I think the success or failure of this season isn't going to be linked to their win / loss record. It's about the performance of the players, pairs, 5 man units and yes the coach too. What we see on the floor is a resounding indication of the year to year improvement of the team as a whole, even if some guys aren't playing their best right now.
.
.
I don't listen to Utah radio anymore because a) I don't have to because b) Moni thanklessly transcribes all of the good stuff over at the best Utah Jazz blog on the internet: JazzFanatical.Wordpress.com . However, today I had to listen to a bit because of a series of tweets by The Shums. It was with respect to Craig Bolerjack being a guest with DJ and PK on 1280 -- THE ZONE! I decided that I hate myself, so I attempted to transcribe some of it.
One of the radio guys (DJ or PK, I honestly do not know their voices, so my apologies) asks a question to Boler at approximately the 2:00 minute mark: "Do you think the light has been turned on for Gordon Hayward?"


CB: "Oh, absolutely. Yeah, I mean, you know, I see him in a different way. Foul trouble against Indiana caused him to sit the bench and took him out of his rotation minutes, but he still played 32. [Hayward] didn't shoot the ball that well, but he's won two ball games. And he had 30 on the road at Indiana. Against the Hawks 11 - I'm looking at my box score again - 11 and 7 . . . He still didn't have a dynamic game against the Hawks; but, still I think there is a light [turned] on. There seems to be more of an urgency and confidence, PK, that rides with him. I think you probably see it as well. And I think most fans do. He's a different guy. I think he's more confident going to the basket: the little extra pounds that he put on, muscle-wise and the new 'do - seems to be takin' it to the rim and given him more confidence. I like his attitude, and the way that he looks at the media: not down, eyes casted, but more direct. And I think that's big. When you're dealing with the media, and actually again he's talking to the fans, I think he has taken a whole new approach and a whole new role."

DJ(?): "I think, uh, you know, there's a lot of truth in what you said there, but I think that the number one thing for me you didn't mention: I just think his attitude, his mood to me - it's like a fog has lifted. He didn't want to play for Ty. [Ed. CB intones that he agrees at the same time as the radio host said "He did not want to play for Ty," giving me the impression that CB is agreeing with the previous statement "it's like a fog has lifted," and not saying that GH did not want to play for former head coach Tyrone Corbin. But that's my interpretation of events.] He did NOT want to play for Ty. He didn't believe in Ty. And you can argue about whether that is fair, whether he should have taken more responsibility and he shouldn't have been blaming other and that; but, the fact is: he didn't think that they could win with that guy. [Ed. "That guy" is Tyrone Corbin.] He thinks he can win with this guy. [Ed. "This guy" is Quin Snyder.] And it's just changed his whole mood."

CB: "I think that that's a great comment, and both were lame ducks. If you really want to break it down even more knowing that Ty, most likely at that time, I think we knew at the All-Star break when no extension was offered, DJ, that Ty was done. He knew it. Gordon knew it. [Gordon's] contract was in flux. And so you put those two together and you've got some issues and the way the Jazz would lose - you're right, there was a cloud, a dark cloud hanging over him. And it seems to have been, I know it's cliché-ish, but he playing - it goes back to Quin Snyder asked him to do earlier in this season and in camp: 'play free, have some fun, show passion, show yourself and the fans that you really enjoy this game.' And I think I see that. I see a smile on his face, when he knocked down the winning shot against the Cavaliers. It was almost like he released four years of emotion and looked to the sky and, you know, fans gravitate to that. I mean, we really haven't had a player that shows that much emotion . . . I mean, [Karl Malone] was perfect. Malone knew how to play to the camera and the fans. There's a time that you hafta kinda connect. I think that Gordon's finally connecting back to the fan base."
You can listen to the full interview here, or just download the MP3 here.
Okay, so, first of all, I guess Deron William or Carlos Boozer didn't show that much emotion. And apparently Gordon Hayward threw people under the bus last year? I don't know. But what I do know is that this is crazy. The flagship station for the radio media that covers the team that is owned by the media and entertainment division of the same group of companies that also own the Utah Jazz are intoning that someone was unhappy last year? I thought the locker room was held together, or something? Man, this is that God's must be crazy moment where us miserable people encounter a coke bottle.

NSFW: Tribal nudity -- like, lots of it. Like right there in the thumbnail.
It's going to be an interesting season. A team that we can love, and a media that is suggesting that last season wasn't the best most well managed season ever . . . ? Truly, the Gods must be crazy.
.
.
Threes! Treys! üçlü! Or whatever you want to call it, it's the new shot that everyone apparently needs to be able to make.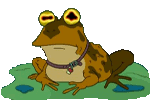 All Glory to the Hypnotoad er, I mean floor spacing!
Sports Illustrated's Ben Golliver (nee SB Nation's Ben Golliver) write all about a new golden era for stretch bigs. The post is amazing, as it goes over history, players, winning, charts, stats, and evidence based conclusions. Here's a snippit:
What were the key drivers of this change? A list of explanations includes the following...

Dirk Nowitzki proved once and for all that a big man could consistently hit from outside while taking a high volume of threes.
The increasing globalization of the game brought in a greater number of basket-facing bigs who were comfortable shooting from distance.
Rule changes to eliminate hand-checking made life easier for ball-handlers and, subsequently, created more drive-and-kick opportunities that made life easier for shooters.
The "Seven Seconds or Less" Suns showed that an elite, three-heavy offense was capable of making noise consistently in the playoffs.
Offenses evolved thanks to the greater implementation of efficiency-based strategies, as teams looked to generate shots at the rim, threes and free throws.
Even more emphasis was placed on floor spacing once defenses began adapting to these changing approaches, resulting in premium contracts for big men who were capable of doing damage from outside.
The three most recent champions - Dallas, Miami and San Antonio - have all made use of spread looks thanks to Nowitzki, Chris Bosh and Boris Diaw, thereby encouraging copycats.
Of course, in our part of the world this means looking at not just sharpshooter Steve Novak, but also other potential stretch bigs. Golliver (2014) continues:
Perhaps most incredibly, new Jazz coach and former Spurs assistant Quin Synder has unleashed Enes Kanter on the outside. The 2011 lottery pick was drafted as a big-bodied, traditional low-post player, and he attempted just three three-pointers in more than 4,000 minutes over his first three seasons under former coach Tyrone Corbin. This year, Kanter has already attempted 11 threes in eight appearances with no sign of letting up.
Yesssss. Since this writing and right now Enes is up to 15 3PTA, and fellow potential stretch big Trevor Booker has also taken 15 3PTA this season. And you know what? They are a combined 11 / 30 from outside. That's a very healthy 37%. By just random comparison, Trey Burke and Alec Burks (our starting PG and SG respectively) are a combined 18 / 70, which is only 26%.
Check out Ben's very complete breakdown, it's just filled with so much goodness. And yes, Quin Snyder's offense will continue to feature bigmen taking shots from outside. Mehmet Okur took 1.5k threes in a Jazz uniform (1492 regular season and playoffs combined) under Jerry Sloan, and shot 38%, I don't see why our current players can hoist them up in this new-fangled offense.
.
.
Ryan Anderson is somewhat of the prototype of a face-up forward. I've never been a fan of him, not before the draft (where he went #21 back in 2008), not as a member of the New Jersey Nets (where he was a buddy of Brook Lopez), and not his years with the Orlando Magic or New Orleans Pelicans (nee Hornets). But one thing is so true about him, when it comes to being a 6'10+ dude who takes and makes threes . . . he has been one of the most consistent and reliable guys out there. He takes over 5 threes a game, and has a career average of 39%, going over 40% in his last two seasons, easily. This year he's up to a Mehmet Okur like 43%. For his career he has also done some work on the boards (career 6 per game), and is, overall, a useful player -- as long as your team has a legit bigman inside to draw double teams.
So why am I talking about Ryan Anderson, someone who I am not a fan of? Well, because of the heart breaking story that popped up on Sports Illustrated's blog. It's a Chris Ballard long-form that is "an extended version of a story that appears in the Nov. 17, 2014, issue of Sports Illustrated."
It is such a downer. The TL;DR version is that he fell in love with a woman who completed his world, and then his world completely crumbled without her. What happened? A combination of nature and nurture created a behavior pattern in his GF, the woman he was to marry, which was self destructive; and she committed suicide. It almost derailed not just his NBA career, but his life. The story talks about the relationships Anderson had with his head coach Monty Williams, his teammates, other NBA players, and his family. And it is really worth the read.
I'm not going to put in an excerpt to any of Ballard's story because I know so many people will choose not to read it because the content is tragic. But read it here, if you are so brave.
So why even bring it up, at all? Because mental health is so very important. And for me (and so many others) it is inherently linked to sports.
We use sports as an escape, after all we 'play a game'. Or watch others play. It's where we form bonds, camaraderie, trust, and lasting friendships. Some people find their best friend through sports teams, others fall in love with someone else because they are fans of the same team and they start a life together. I remember that no matter what was going on in my life, if we had a game coming up (back in junior high, or high school, or college, where I played ball for one year) that could be my sanctuary. For some people sports is a way to move beyond other life stressors. For others, it's more than just an outlet, it's a way to make a connection within a larger in group that they may feel otherwise isolated from in the non-sports world.
When I was in high school the sports anchor of the local news station was murdered. I had been watching that guy for years at this point, and it was revealed that he was murdered by a 'loner' who was mentally 'disturbed' and isolated from his friends and family. The only dude out there that he felt a tangible connection to was the sports caster -- who had never met him. (Obviously a one way relationship) It's easy to demonize a murderer, and more so when it was easy to pass off some outcast as someone with mental problems. But mental problems and our attitudes towards them necessarily changed since the 1990s till now.
If someone is physically hurt we know how to fix it, for the most part. If someone is mentally, psychologically, or emotionally hurt - there's such a stigma attached to it still. (And hello, we're in the new era of the DMS-V right now. Let's keep moving forward!)
You are obviously reading this on the internet. There are billions of people on the internet at any given moment; yet it's still possible for someone to feel isolated, alone, and struggling with demons that they alone may know about.
You are not.
The National Suicide Prevention Lifeline has people available to talk at any single moment of every day or night. They even have an online chat option. More than that, you have your peers -- fellow Utah Jazz fans -- at SLC Dunk. If you are down, or worried, or having a crisis I think it's okay to reach out to this community.
We're a family here. And while we fight and argue all the time, we are still a family.
If we can make it through the Tyrone Corbin era alive we can survive anything. (That's a joke, I'm not saying that Corbin is a life changing crisis. He's a decent man who is compassionate and courteous.)
Ryan Anderson's story talks about the grief that the survivors feel when someone they care about takes their own life. What I want to talk about is that there are people available to reach out too -- even complete strangers -- who are so willing to care about you. No one should ever feel alone. We all have a story to tell. And we all have ears to listen with.
And if you need to talk, there are plenty of people out there who will make sure you can.
.
.
That's a really tough act to follow, but I think it's important to not move on from the suffering of our fellow man, but better understand where sport exists within our society. At the end of the day it is entertainment, it can inspire (at best), or distract (at it's most basest). We love the Utah Jazz because they make us happy. They also frustrate, infuriate, and so many other things that make us question both our sanity and our devotion to this franchise.
But it is a choice we made.

Friendo.
Like me, it's approaching midnight and here I am writing about this team. Not from some obligation, I could be all cozy in bed reading a book or something. But no, I'm at my desk near some sort of draft from my window that I have to fix, writing about this team. And I'm doing it because after all these years I will somehow always love the Jazz franchise. This team is easy to love. But those two things (the team and the franchise) are distinct in my mind.
We all give up time to the Jazz, we pick the Jazz. We pick them by listening to people talk about them, by deciding to read what other people have to say about them (including all the readers here), and of course, we pick them by deciding to go to games or watch games or listen to games or whatever it is.
I've spent more time on the Jazz in my life than any other voluntary activity. I think that's the case for most of us here. And I do it because they make me so happy.
So . . . what makes you happy about the Jazz?