So NBA news is slow now, right? Nope. There's still plenty of information that we need to go over every day. One of the biggest things still on the docket after the NBA Playoffs, NBA Draft, and NBA Free Agency . . . is the FIBA World Cup. Utah Jazz fans will be watching it because it is likely that Dante Exum (and Brock Motum) will represent Australia, Rudy Gobert will represent France, and Raul Neto will represent Brazil. Gordon Hayward is in camp to make the USA team; but more and more we see bigmen opt out leaving open space inside. Recently Blake Griffin and Kevin Love have both turned their backs on their country, and this could open the door for someone else - - - like our own Derrick Favors?
US Team Boss, Jerry Colangelo, says:
Could USA add a player from Select Team roster, Colangelo told Y:"If someone rises to the occasion...We're flexible.We're fluid. We'll see."

— Marc J. Spears (@SpearsNBAYahoo) July 26, 2014
Maybe.
Earlier today My_Lo and I were just talking about how great it is for the Jazz franchise to have so much momentum going forward with actual PLAYERS being noticed / on that national / international scale. It only makes sense when we have so many international assets, but I think that having GOOD USA team members means a lot more too. It builds up a player's cache (Ca-SHAY), increases their visibility, and helps them work towards stardom.
To win in this league of highly marketed players you need stars. If a guy like Hayward or Favors does make Team USA it helps them and the franchise a lot.
.
.
One guy who came to the Jazz with a lot of national press hype was Trey Burke. He went to one of the largest funded college basketball programs in an iconic Big 10 school, and won a lot of awards in his last season there including a few Player of the Year trophies. He missed out on the NCAA Championship, but had an excellent clutch tournament to get his team there. Then he was a rookie with the Jazz, had an injury in preseason that needed surgery, and was playing from behind the rest of the season. I don't think the Jazz did enough to market him, despite the fact that this dude won Western Conference Rookie of the month half the year.
Thankfully with Exum he has people who will do so much that not even the Jazz negligence will get in the way.
But back to Trey. The Jazz did hire Patrick Beilein to be a video co-ordinator and to assist with player development. Pat is the son of John Beilein, who is the head coach of the University of Michigan basketball program. (Woj here, SLTRIB here) Pat and Trey do know each other, if at least through Trey's college coach / Pat's dad, and possibly during Trey's recruitment as Pat was a UofM Graduate assistant with their basketball program.
Beilein, the son of Michigan coach John Beilein, will work under Snyder in a player development and video coordinator role.

Snyder plans to utilize Beilein's strengths as a shooting instructor with a young, developing roster.

Beilein, 29, turned a losing Division II program at West Virginia Wesleyan into a 20-game winner in his third season in 2013-14. Before his first head coaching job, Beilein had been a graduate assistant at Michigan and had staff jobs at Bradley and Dartmouth.

Patrick Beilein played for his father at West Virginia University, where he was a 1,000-point career scorer and was part of Sweet 16 and Elite Eight teams.
Beilein is a coach's son, who was a player. And at the age of 29, is going to be coaching for a very long time. He's a perfect fit for our young crew that has an average age of 24.
So where does this put the Jazz coaching staff at right now? I am glad you asked. They've made numerous changes from last year to this upcoming year, and I am researching all of them to do a long form post on it -- eta on that is for Monday. But hopefully bringing a Beilein back into Trey's life will also bring back some of that University of Michigan mojo -- and help him be a star at this level, like he was at the previous one.
.
.
One player who is going to partially slip through the cracks (unless he really shows up in training camp) appears to be Carrick Felix . But Felix is crazy interesting, as Shums pointed out days ago. Read it again here! What interests me about him right now is that this dude is like a full-time Mountain-ish region guy. He was born in Nevada, and grew up in Arizona, and went to college in Idaho and Arizona. And now he's going to be playing in Utah.
I'm kind of a map guy, so this is crazy to me. There is some weird sort of pluralism that happens (in my opinion) with African Americans who grow up in the Western states, but aren't Californians. These guys grow up with different challenges and norms compared to African Americans from the midwest, or the cold East, or the South, or whatever. And while we don't really get into this type of topic a lot at the site -- I think it is notable. I goes in line with Spencer's downbeat talking about the character of players. Read it again here!
Now, I'm not saying that he automatically has better character than guys from other parts of the country, nor am I saying that other guys have an automatically worse character either. But for me this seems like another of those unicorn guys, he is magic. He's an athletic basketball player who is good at defense, and grew up, went to high school, and college surrounded by the same types of people he is going to be living around here, as a pro.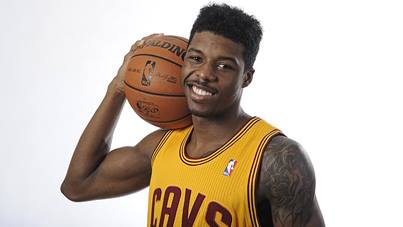 And he had a flat top.
The hope here is that he fits in better with the culture and will not over-emphasize off-court changes. In fact, going to Cleveland, a much more blue collar, rust-belt city with a significantly different demographic breakdown from where he is from was a bigger change than going from Arizona to Utah. While he's not LDS he could be a better cultural fit than someone like Jabari Parker, who is LDS, but from Chicago.
I think culture matters, and it matters to the Jazz. So this is why I'm bringing it up. Dude wanted to be a skate boarder growing up. He ran a blog on the internet. He is one of us.
.
.
If you made a list of all the centers Karl Malone had to play with on his team you would a) cry, and b) cry some more. The lack of talent he had to work with on the inside for years was almost criminal. And in his later years the Jazz front office just stopped trying to bring in centers at all, instead they found it easier to find a solid power forward to come to Utah and play next to Karl. I'm not going to list the centers because it will only make you angry.
The flip side here is that the Jazz have three guys who could be rotation players on every team in the league who are capable of playing center in Derrick Favors, Enes Kanter, and Rudy Gobert. All three can finish on pick and rolls, rebounds, and two of them can block shots. Those are three solid talents you enjoy having from your bigmen. What skills did guys like Mark Eaton, Felton Spencer, and Greg Ostertag really bring to the table? Eaton was a great shot blocker, and Ostertag could be powerful when motivated.
But right now the Jazz are in the midst of having the best group of centers in franchise history. (Not the best individual centers, but the collective) It's just funny how things work out like that. Karl + one of those three guys = championship. Thems the breaks.
.
.
There are a bunch of former Utah Jazz starters who are free agents right now: Mo Williams, Ronnie Brewer, Josh Howard, and Jamaal Tinsley / Earl Watson . (They weren't full-time starters, but had cracks at it over time) Who gets employed the soonest!