So it is now June 19th, and we are just six days away from the NBA Draft. For the longest time the draft just wasn't something the Utah Jazz really banked on. After picking John Stockton #16 in 1984, and Karl Malone #13 in 1985 the team made the playoffs for a billion years in a row -- and as a result, whatever 1st rounder the team had wasn't going to be a high pick. And with that, the resulting rookie wasn't going to be a conventional impact player. (This is of course a revised history where the #15 pick in 1986, Utah Jazz 1st rounder Dell Curry, doesn't exist.) Yes, the team has had unexpected success with undrafted players; so perhaps the NBA Draft isn't the only thing we should be championing here. But Utah has made the most of their second rounders, while only doing "okay" in the late 1st round. Jazz fans have always been excited for the NBA Draft, but the Jazz organization has been forced into relying upon it much more in the post-"John and Karl" years. (Because, duh.)
Dennis Lindsey has constructed a team that is, by a surprising majority (when you get rid of free agents), first round picks:
1st Round
Rnd
#
Draft
2nd Round
Rnd
#
Draft
1

Derrick Favors

1
3
2010
9

Grant Jerrett

2
40
2013
2

Dante Exum

1
5
2014
10

Jeremy Evans

(UFA)

2
55
2010
3

Gordon Hayward

1
9
2010
4

Trey Burke

1
9
2013
Undrafted
Rnd
#
Draft
5

Alec Burks

1
12
2011
11

Joe Ingles

(RFA)

3
100
2009
6

Trevor Booker

1
23
2010
12

Elijah Millsap

3
100
2010
7

Rodney Hood

1
23
2014
13

Chris Johnson

3
100
2012
8

Rudy Gobert

1
27
2013
14

Jack Cooley

3
100
2013
15

Bryce Cotton

3
100
2014
Yeah. That's new. If the team stands pat they'll add another #12 to the crew this year. Of course, the team has made four draft night trades in the last two seasons, so you never know who the team is going to end up with at the end of the night.
.
.
Speaking of the team, according to SLC Dunk founder Basketball John:
The @utahjazz arrived in Utah 36 years ago. And the three-point era was born. Not because of the Jazz though. pic.twitter.com/9NgdTcJKdU

— Kris (@5kl) June 19, 2015
Yeah. LAST season was the 40th year of the franchise, but I guess that milestone isn't that important. (Really, who celebrates 40? The Sex in the City ladies?) What seems to be something non-Jazz fans will never get over is calling the team "The Jazz". Everyone loves our retro history, our look, and one of the most popular players in the history of the game was Pistol Pete Maravich, a Jazzman. But *they* (man, I sound like a radio talk show host now) don't want the name to stay in Utah. And I'm just sick of it. If you need to be at least 35 years old to be the President of the United States of America, then the 36 year old Jazz nickname of Utah's basketball team gets to stay.
New Orleans Jazz better than New Orleans Pelicans? Absolutely. But [Anything] Jazz is better than most team names in any sport, on any planet. (Take that Mars Capital City Mar-V-Ps!) This isn't a cultural thing, or a "Utah isn't cool" thing. This is 100% a jealousy thing. And fans of other teams are just mad. To second my opinion: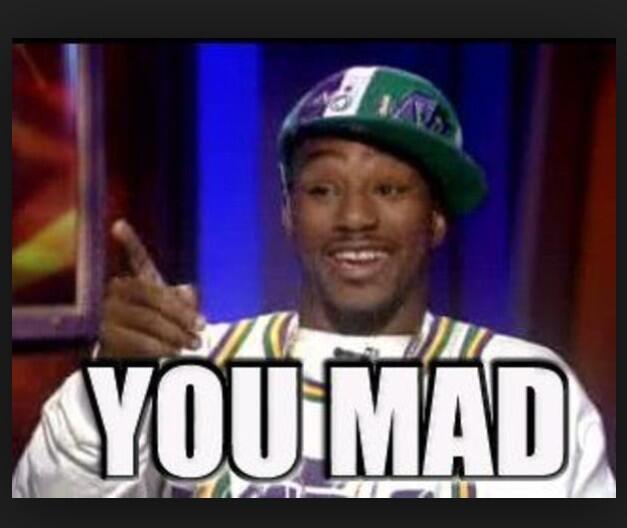 Yup. Case closed. The Jazz are cool. And the Jazz franchise has been great in Utah. And together, the Utah Jazz are awesome, and stop trying to steal the team's name. I know this isn't what everyone needs to get mad about right now, but every time someone talks about how great our jerseys are the almost automatic comment is about how ill fitting the name is for the city.
They mad.
Jazz (the music genre) is cool. And the "Utah" Jazz are almost 40.
.
.
So the NBA season is over; however, don't fret! There's a lot of basketball left to play as there are seven seeds available for teams trying to make the 2016 Summer Olympics.
August 16-18th: 2015 FIBA Oceania Championship (Australia vs. New Zealand) -- one berth
August 20-30th: 2015 FIBA Africa Championship (Africa, duh) -- one berth
August 25 - September 6th: 2015 FIBA Americas Championship (USA already clinched) -- two berths
September 4-20th: 2015 FIBA EuroBasket (Europe's big deal) -- two berths
September 23- October 3rd: 2015 FIBA Asia Championship (everyone else) -- one berth
If your favorite team isn't able to make it to one of these berths then they have to go through an additional, yet somehow more crazy, process in the weeks before the 2016 Olympics to make it to the 2016 Olympics. But that's a year away. Right now we have these regional championships to go through first. And if you are planning on watching some of these games there are some teams that may be captivating to watch.
Obviously, Team Australia has a ton of talent on it that we care about (Dante Exum will play, Joe Ingles will not, and possibly join Andrew Bogut, Brock Motum, Matthew Dellavedova, Patty Mills and others). The African squads are amazing to me, but Angola and Egypt usually dominate this, with occasional surprises seen from Tunisia and Nigeria. None of our Jazz players are on any of these nations, but some Jazz mini-camp guys and/or summer league players are in that mix (Salah Mejri!) The Asian contest appears to just be a tune up for China, as they will look to dominate Kazakhstan, South Korea, Japan, Hong Kong, Qatar, Kuwait, Malaysia, Singapore, Lebanon, and a whole bunch of other nations that don't really play basketball. China will only be challenged by a strong showing from Iran, or alternatively, the Andray Blatche led Philippines.
EuroBasket is where we'll see a lot of familiar faces, and we'll preview this in greater detail as we get closer to the tournament. The Americas championship, though, seems to be one of the more competitive tournaments out there. First of all, there's no Team USA in it, so everyone is still kinda playing for Gold here. Second, a lot of the great players from some of these nations (Manu Ginobili, etc) aren't suiting up either. You are going to have some hotly contested games in the time zones we're more familiar with (the host nation is Mexico).
Brazil (bench PG Raul Neto!), Dominican Republic, Uruguay, Panama, Mexico, Argentina, Venezuela, Cuba, Puerto Rico (Carlos Arroyo is still playing!), and my home and native land of Canada will be hooping it up for two tickets to the Olympics. I'm biased, but I think my guys have a chance to make some noise. It's not going to be easy, but they do have a nice roster on paper -- I don't know if they can play on the courts though. Team Canada has a lot of NBA and/or NBADL/NCAA talent on it. A rotation of Andrew Wiggins, Tristan Thompson, Anthony Bennett, Kelly Olynyk, Nik Stauskas, Cory Joseph, Tyler Ennis, Olivier Hanlan, Melvin Ejim, Andrew Nicholson, and Trey Lyles isn't horrible. If Sim Bhullar makes the team, it's officially ridiculous. Actually, upon second thought, after looking at their roster, it's unlikely that they'll be making any noise. But a fun team none-the-less.
I guess this, but in hockey jerseys.
.
.
While most of us are currently keeping tabs on the draft, and looking forwards to next season, some of us aren't yet ready to move on just yet . . .
But how many Jazz players were in either All Defensive teams? https://t.co/kIP8XjSHDj

— rudy gobert (@rudygobert27) June 19, 2015
@rudygobert27 @Fabio_Alvarenga @fullcourtprez crazy

— Derrick Favors (@dfavors14) June 19, 2015
.
.
Obviously, the focus has been on the lottery, ping pong balls, and 1st round picks. But the team has two 2nd rounders to go this year, and a legion of them in the following years. With the team's success rate in getting "Euro draft and stash" players compared to their "diamond in the rough" ability with NBADL / undrafted players . . . what should the team do?