NBA Playoffs? Check. NBA Awards? Of course. Old School videos of guys in short shorts passing to postal workers? Yes and yes. Actual Utah Jazz news and new hires? Lemme check . . . . oh yes. We have that too! All this, plus unsportsmanlike Spelling Bee behavior from pre-teens! It's your Friday Downbeat!
.
The Golden State Warriors staved off elimination last night with a solid win at home against the Oklahoma City Thunder. It was a really exciting game where the Warriors really couldn't pull away even if they went on a 9-2 run in the fourth quarter. It was a huge win for the 73 win team, and one of the better playoff games this season. (You know, aside from all the really bad overtime games in earlier playoff rounds.) I'm not the only one who has that opinion . . . old-school NBA fan Chuck D agrees.
This is a damn good game .. Like old school .. Hard defense

— Chuck D (@MrChuckD) May 27, 2016
Now, it's not like the defense we used to see in the 80s and 90s, but the rules changes have made sure that we'll actually never see that type of defense again. Then again, high scores are exciting, and the players that play in those systems (and get the numbers) will always bee championed by the league -- which kind of explains why Draymond Green can continue doing his nutcracker routine and never get anything but a slap on the wrist.
So while it was a big night for the Dubs, it wasn't the only crazy competition of the night. In the NHL we got to see a great Conference Finals Game 7 between the Pittsburgh Penguins beating the Tampa Bay Lighting 2-1. (Highlights here, if you care.)
BUT THAT'S NOT ALL! There was also the Scripps National Spelling Bee! And as usual, for some reason it was absolutely ridiculous and compelling. The end result was yet another tie, for the third year in a row. Which is crazy, because they specifically changed the rules to make a tie as impossible an outcome as they could -- yet after 25 "overtime" words in the Finals they were forced to give it to the two kids.
The Scripps National Spelling Bee: Still America's most dramatic sporting event. https://t.co/J3ut87dptX https://t.co/J9Uq4pxx8J

— SB Nation (@SBNation) May 27, 2016
This year's show became a spectacle with the usually reserved Spelling Bee types going out and celebrating and being increasingly demonstrative as the rounds progressed. Kids were 'dabbing', some participating in the running man. In the final rounds this one kid was getting in the face of the other kid.
I saw video of Nihar's savage clapping at the #spellingbee. Felt obliged to mash up w/ his spirit animal @JoakimNoah https://t.co/11tvSKejHE

— Mike Goldfarb (@Shaqtin_A_Fool) May 27, 2016
It was cold, uncool, and not classy. It got me thinking about the two different perspectives of competition -- to be cool and collected, or to be fiery and passionate. And this seems to be something I consciously bring up a lot. I guess I am forced to because I tend to run a little hot, and our current Utah Jazz team seems to be led by those with cooler heads.
Ultimately, I think that Gordon Hayward would probably be the best candidate to win a Jazz spelling bee. He has that level of concentration and that level of internal drive that would make this a non-contest. But who do you think would come in second? I am almost certain that Joe Ingles would come in last, on purpose.
Speaking of Joe, have you seen this yet?
LATEST feature out now: Why @Joeingles7 is the ultimate glue guy. Special thanks to @Joeingles7! https://t.co/gV7mOXE6yi

— Warren Yiu (@WarrenYiu) May 20, 2016
If not, check it out. It's great!
.
.
The All-NBA Teams were announced yesterday. As expected, no Utah Jazz players were regarded as the Top 15 players in the league. Team (total votes):
The Utah Jazz players (and former Jazz players) who got votes were: Paul Millsap (84) and Gordon Hayward (3). Hayward had as many votes as Tim Duncan, Dwight Howard, and one more than Carmelo Anthony, if that matters. Out of all of the Honorable Mentions, Millsap had the second most votes. Who didn't get in? James Harden, with a grand total of 106 votes. Three more votes than LaMarcus, but because of the positional constraints he got in and The Beard did not.
Is this a real controversy? I don't know. But the people over at NumberFire.com broke down who SHOULD have been there. (And here's a hint -- they used numbers)
What the 2015-16 All-NBA Teams Should Have Looked Like https://t.co/ygHKlR112Q pic.twitter.com/OZCnrEVPjZ

— numberFire (@numberFire) May 27, 2016
Through their calculations James Harden does make it on one of their All-NBA Teams, but there are some more shake-ups than just that. Our guy Paul Millsap does make the 3rd team. His frontcourt mate Al Horford does as well! Somehow DeAndre Jordan is still there. So not only was he All-NBA Defensive 1st team, but he's also All-NBA 1st Team OVERALL? Is DeAndre the best center in the league? For reals?
As big fans of center Rudy Gobert we have to take a look at this popularity contest. When you compare these two guys there are some outright similarities. Both guys block shots, get rebounds, and have trouble at the free throw line. Rebounding is where we start off with. When you look at their per game, per 36 minutes, and per 100 possessions Jordan gets 9.6, 12.8 and 18.2. Rudy gets 8.5, 12.7, and 18.7. In addition, both get offensive rebounds at a similar rate as well. Blocks? Equally impressive for both, but Rudy beats him out. DRTG? Rudy wins again: 99 is smaller than 101.
So if Rudy continues to base his game around defense, plays more games a year, and gets some exposure for his efforts do we get to see Gobert be the #1 center in the game?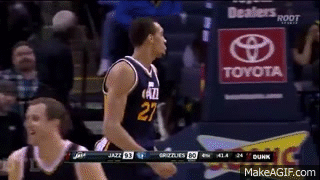 Maybe?
.
.
Over off in TV Land TBJ #TheStarters' Leigh Ellis got some luck in his most recent card pack opening, and pulled a 1992 Dream Team Stockton. That's pretty awesome.
My main man @LeighEllis was pretty happy to score a John Stockton Dream Team card today! pic.twitter.com/nGWT9nlgo7

— J.E. Skeets (@jeskeets) May 27, 2016
I think most of us had basketball cards growing up. I know I did. Some of my favorites were a Blue Edwards rookie card (I also had a Sean Elliot rookie, but I hate the Spurs), a bunch of random other Jazz cards, like Mark Eaton, or Mike Brown, and so forth. I had a Karl Malone card from 1996's Olympics. (Strange) But my fav was this split screen card that was for John and Karl, I think there was some sort of special "on court chemistry" or something series back in the day with Upper Deck one season. It was my most prized card, and of course, being a dumb teen -- I gave it to my then girlfriend as a token of my affection for her. I have no idea where it must be today. Looking back it was a dumb move because there's no way that she could ever get why that card had value, and I'm sure the same or greater affections could have been earned if I just bought her a stuffed animal or something. Maybe a hippo or some other dumb thing that girls like. (Girls like hippos, right?)
Did you collect (and cherish) basketball cards growing up? Which was your favourite?
.
.
Time for a more fun trip down memory lane? Reddit user 12JonnyB edited and posted a video of Utah Jazz greats, and Basketball Hall of Famers, John Stockton and Karl Malone. It's pretty sweet.
I really miss having two absolutely dominant (on both sides of the floor) players who could take over a game. John was a great late-game decision maker with that 'clutch gene'. Karl was so great that when he got going in the first three quarters the fourth quarter for countless important Jazz games would be garbage time. Sadly, a lot of people didn't see them play at their best.
For those of us who did see them, seeing that level of excellence, that frames our argument whenever we are critical of the players today, or the way the Jazz PR and in-bed media laud certain guys ("Jazz fans owe Richard Jefferson" "Josh Howard gives the team the best chance to win" "Mo Williams is a leader" etc). It's one thing to have to sell your team, regardless of the quality of product. John and Karl were so great that fans didn't need mouthpieces to tell us what our eyes could clearly see. Those same eyes often disagree with the manufactured messages we were given over the last five years.
Oh well. We were very lucky to have them. Even if not all of us got to see them regularly.
This chart is disrespectful to Magic/Cap. Bean and Pau played in 3 finals & won 2. Bird/McHale want some respek, too pic.twitter.com/Mj0lmBPrr4

— Jabari A. Davis (@JabariDavisNBA) May 27, 2016
Fans today still have to give them respect -- even if they don't really know which pairs were legendary. Jason Kidd and . . . Vince Carter? Tracy McGrady and Yao Ming? Allen Iverson and Carmelo Anthony? Lots of great individual players here, but I don't think any of those made one another better to the level that we had for some other tandems -- like John and Karl, or Michael Jordan and Scottie Pippen. Somehow missing from this list are any of the really dominant pairings before the 90s. No mention of Magic Johnson or Kareem Abdul-Jabbar. No Isiah Thomas and Joe Dumars. Zero players from the Boston Celtics, who have won titles in almost every decade of the NBA.
I guess I'm quickly turning into one of those "uphill, both ways in the snow" old men. How the heck is Chris Paul and Blake Griffin even on this diagram -- how many playoff series have they even been in? Three? Four? Is there even a number low enough to measure how unimportant those two have been when it comes to actually winning playoff games? Gimme Lew Alcindor and Oscar Robertson any day over those Millennial heroes.
.
.
Last, but not least, the Jazz are making some moves with their production. They changed the uniforms. They are doing arena upgrades. And it's the end of an era . . . Steve Brown will no longer be on ROOT Sports doing sideline reporting. He has been, and how is this not a demotion, to the broadcasts of the Jazz' NBADL team, the Salt Lake City Stars. So who is going to be doing the ROOT Sports sideline beat? Superstar Andy B. Larsen reported yesterday that it will be none other than NBC's Kristen Kenney (@kristenkenney).
Steve Brown doing play-by-play for SLC Stars. Relatedly, he won't be primary sideline reporter for Jazz next year. https://t.co/snR6KKYPCJ

— Andy Larsen (@andyblarsen) May 26, 2016
Sources: Utah Jazz new sideline reporter will be Kristen Kenney. She's currently a presenter & host for NBC Sports. pic.twitter.com/sCC2dLAk1D

— Andy Larsen (@andyblarsen) May 26, 2016
If you are keeping track at home, the Jazz have added Kristen and Hayley Byrnes (@HayleyByrnes) in successive off-seasons. I only wonder if it will be three blondes in a row by this time next year?